Who To Play:
Zach Lavine, PG/SG, Chicago Bulls
After going through some of the toughest shooting struggles of the season, Lavine turned a corner and is one of the hottest players coming into Friday.
The former Bruin is averaging 27 points, 3.8 rebounds, 4.2 assists, 0.8 blocks, and 1.4 steals while making a total of 17 threes in the last five games.
The Bulls will be up against Golden State and we just pray the Warriors make it a little competitive so Lavine can find some more time on the court.
Montrezl Harrell, PF/C, Los Angeles Clippers
Priced at $6,500 at DraftKings, it's a mortal sin not to include Harrell in the lineup. The guy is averaging 39.3 FP over the last six and had his best game of the season against the Bucks, the same team they'll be up against on Friday.
Seems like a no-brainer to me.
Jarrett Culver, PG/SG, Minnesota Timberwolves
I like Tomas Satoransky a lot and I'm also very high on Markelle Fultz, but a name I'd like throw again in here is Jarrett Culver.
It certainly looks like he will be the starting PG at Minnesota going forward and he has not disappointed. Over the past four, he has averaged 28.8 FP, capped by an impressive 11-8-6 performance at Dallas.
Other cheap options at PG is Ish Smith, who will be starting in place of the injured Isaiah Thomas for the Wizards.
Who To Avoid:
Carmelo Anthony, PF, Portland Trail Blazers
It's Carmelo Anthony and the rest of the Blazers front court, if you know what I mean. They will be playing the Lakers, who have limited Utah and Denver in the last two games to 39 points in the paint, as per NBA.com.
Don't be fooled by Melo's scoring numbers. Two of those came against Chicago, who allows the eighth-most points in the paint. At his price range ($19 in Yahoo), you can probably take a long, hard look at Myles Turner or Nemanja Bjelica, who has now topped over 30-plus in the last two games.
At DraftKings, Melo is worth $5,800, just in the price range of Jakob Poeltl (43 FP the last game), Davis Bertans (27.3 FP over the past five), and T.J. Warren (29.7 FP over the past six).
Paul George, SF, Los Angeles Clippers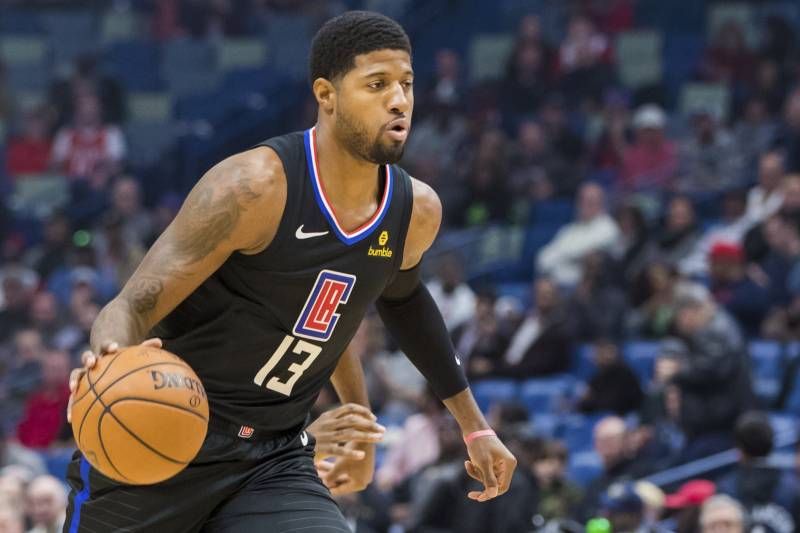 PG has slowed down in terms of picking up prized defensive stats this season with just 1.3 steals and 0.4 blocks per game. Over the past three games, he has not recorded a steal and swatted only one shot.
The Clippers will be tested against the Bucks, who allows the second-fewest steals and the fourth-fewest blocks in the entire NBA.
PG can be a bit pricey ($38 at Yahoo, $7,800 at DK) which means you can have a lot of options here. Think Domantas Sabonis (40.7 FP over the last six) or Kemba Walker (45.3 FP over the past four).
Kevin Love, PF/C, Cleveland Cavaliers
You shouldn't even be thinking about Kevin Love right now, unless you're his girlfriend or wife or mom.
K-Love has been on a brutal stretch with three single-digit point totals in three of the last four games and a measly 24.8 FP average over his past three.
Priced at $24 and $6,800 at Yahoo and DraftKings, respectively, you can snag someone like Aaron Gordon who scored a season-high 32 in his last game, or Steven Adams, who has at least 38.75 FP over the past three games.
Featured Image: (Luis Sinco / Los Angeles Times)
2,832 total views, 4 views today