If you could redo the draft all over again, would you have picked the same players or are you ready to move on? Well, just to put it out there, there is no such thing as a perfect draft but I am still doing well in my leagues so the answer would be kind of in the middle.
That said, there are certain players who are can't miss, which means if they somehow fall in your lap, you better not take five seconds before you pull the damn trigger. What we are going to do is go through six rounds of drafting and we will list the best players to draft in fantasy basketball in the early, mid, and late stages of these rounds.
Round 1
Early:
Anthony Davis, C/PF, New Orleans Pelicans
Giannis Antetokounmpo and James Harden are also viable targets but if I have the No. 1 pick, AD is a no-brainer. There is absolutely nobody in the league right now capable of registering video game numbers on a nightly basis. Unlike Giannis and Harden, Davis can also impact the game even without the ball in his hands. He can let his teammate work and simply pound the offensive glass with those long reach. There is not much else that this guy cannot do and with him entering the full prime of his career, he will only get better in perhaps, 4 to 5 years more.
Middle:
Kevin Durant, SF/PF, Golden State Warriors
If you can get KD around picks 6-8, then that's a start you want to live with. (Yahoo currently has him at No. 6.)Surprisingly, Durant's teammate Steph Curry has overtaken him in the Yahoo fantasy rankings right now but KD's durability should still be factored into the equation. And most of all, he may not be heating up yet for the seemingly bored two-time defending champions.
Late:
Joel Embiid, PF/C, Philadelphia 76ers
There are not many players who you watch and call DOMINANT but Embiid is honestly one of them. In hindsight, many of us would probably want to stay away from The Process because of his medical history but he only missed three games so far and has rewarded owners who took the risk drafting him early. (P.S. I am not one of them.) If Embiid cuts down on long-range attempts and simply focus on working inside, he will be Thanos in a league full of Avengers.
Round 2
Early:
Paul George, SG/SF/PF, OKC Thunder
The three-position eligibility is a bonus but George has turned his pre-season late first to early second round ranking into a middle first round value. Nobody could have predicted this before the season but it seems like Russell Westbrook rewarded PG for staying by letting him be the No. 1 option on offense. (And Westbrook's shooting sucks, by the way.) If you ever happen to see PG's name available in the early second round, scoop him up quick because somebody's not doing his homework.
Middle:
Bradley Beal, SG, Washington Wizards
Beal's value skyrocketed because of John Wall's absence but even with Wall in the lineup, he is still a definite second rounder with his combination of scoring, threes, good percentages, and underrated assists numbers. And don't forget he is posting 1st-round value in the last eight games (28.6 points, 4.9 boards, 5.3 dimes, 2.4 steals and 3.4 treys on a 47/40/87 shooting).
Late:
Rudy Gobert, C, Utah Jazz
Aside from my good buddy, probably no one thinks of Gobert as a second-rounder partly because he turned out "only" third-round value last season. However, this year, Gobert's value is at mid-to-late second round with averages of 15 points, 13 rebounds, 2 blocks, and 65% shooting. Of course, he won't give you threes but he is an underrated assist contributor with 2.1 dimes plus 0.9 steals.
Round 3
Early:
Jrue Holiday, SG/PG, New Orleans Pelicans
If I were picking at the very end of Round 2, I will consider Holiday as my guy. If he's available on third, I'm all in. Holiday just entered his prime years and it shows by averaging career-highs in multiple categories. He won't hurt you anywhere and will reward you in all other areas except maybe TOs.
Middle:
Marc Gasol, C, Memphis Grizzlies
Klay Thompson deserves a mention here but for some reason, Gasol slid down in drafts this season. Yeah, he is no spring chicken but the Grizzlies' offense is playing to his strengths and so far, he shows no signs of slowing down. The only knock on Gasol is his FG% but he makes 1.5 threes a game, 4.5 assists, 1.2 steals, and 1.4 blocks on top of 15 points and 8 rebounds, so what's not to like? The possibility that Memphis will trade or shut him down is a little alarming but as long as he is posting such well-rounded numbers, he still needs to be in the conversation.
Late:
Blake Griffin, PF/C, Detroit Pistons
Age, injuries, and efficiency are common deterrents why you wouldn't draft Blake Griffin and probably why he is projected as a late fourth-round value in the pre-season. However, he is still the man in Detroit with lots of touches and the green light to shoot and create plays. That translated into a late-third-round value so far with TO's (3.7) and lack of defensive stats for his position (0.8 steals and 0.5 blocks) as the glaring negatives. Other than that, this guy is a stud and will dominate points leagues.
Round 4
Early:
Mike Conley, PG, Memphis Grizzlies
Conley has always been underrated in fantasy and in real life and that probably won't change anytime soon even with a nine-figure contract. The only red flag on him is FG% but he does not commit many turnovers and is solid everywhere else. Conley is a middle third round value as of now.
Middle:
Eric Bledsoe, PG/SG, Milwaukee Bucks
Bled is returning early fourth-round value so if he's available at picks 44 onwards, you can do much worse. He has improved his three-point shooting and is on pace to be one of the better point guard options out there if you miss out on the top tier.
Late:
Jusuf Nurkic, C, Portland Trail Blazers
Nurkic is thoroughly outplaying his pre-season rankings and is currently sitting at a late third-round value. Nurkic had one of two games with at least 5 assists, 5 rebounds, and 5 blocks and we may not have seen the best of the Bosnian Beast yet.
Round 5
Early:
De'Aaron Fox, PG, Sacramento Kings
One of those guys that have been outplaying their ADP by 80 picks, Fox has been a revelation in his second year. I should have seen it coming considering the Kings are all in on his development and it just shows. The only red flag on Fox's game is the 3.0 TOs per game he averages but other than that, I would take the 18 points, 7 assists, and 1.8 steals a game he registers.
Middle:
Steven Adams, C, OKC Thunder
If you have missed out on Gobert, Davis, or the other top-tier centers Adams is not a bad one to have. He is averaging a double-double and although we want him to block more shots (0.8 BPG), he balances it out by swiping 1.5 balls a game. The FT% left much to be desired but at least he's just shooting 4.7 a game. That will sting a little but not enough to singlehandedly drown you in that category.
Late:
Marcus Morris, SF/PF, Boston Celtics
Morris is one of those guys that were underrated in the preseason because he is in one hell of a talented team. That did not deter him from producing, though, and is shooting very well from the field and the line while making over 2 threes a game.
Round 6
Early:
Domantas Sabonis, PF/C, Indiana Pacers
How about outplaying your ADP by 100 picks? That's basically what Sabonis is doing right now although he can do better on the defensive stats. He is almost dropping double-doubles every night with three assists and a very impressive 63% clip from the floor.
Middle:
Malcolm Brogdon, PG/SG, Milwaukee Bucks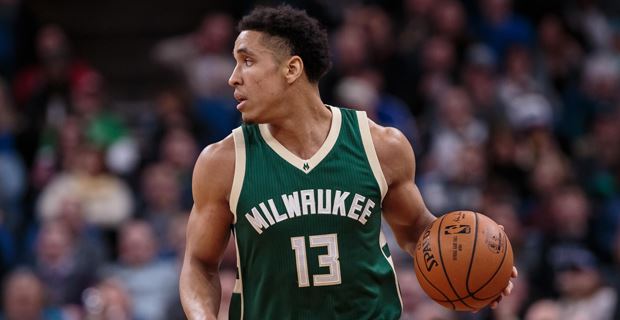 I swear if I search the word SOLID in the dictionary, Brogdon's name must be there. The President does not make too many mistakes and averages almost 15-5-4. Not bad, not bad at all.
Late:
Jaren Jackson, Jr., PF/C, Memphis Grizzlies
If you're drafting for potential, then you won't go wrong with JJJ. His defensive capabilities are tantalizing and he has the ability to knock down threes. Luka Doncic is no doubt the better scorer and passer but shooting efficiency and defensive stats go to Jackson. If the Grizz decides to bow out of the playoff race, JJJ could be unleashed which is exactly what his owners would like.
Final Thoughts:
Rounds 7-14 is more of a gut feel type of thing. As you can see, most of the early to mid rounders on my list are big men and I believe stocking up on elite to mid-tier centers is a really good strategy moving forward. You can round up the SF spots in these later rounds with options such as Rudy Gay, Trevor Ariza, Jeremy Lamb, Al-Farouq Aminu, or some hot free agent that play the position. I drafted Caris Levert (producing third round value before he went down) in Round 13, I believe, so there is really awesome value in the later rounds if you do your homework coupled with strong gut feeling.
Featured Photo:
Derick E. Hingle-USA TODAY Sports
Best Players To Draft In Fantasy Basketball
5,504 total views, 8 views today