It started slow and ended anything but.
If anyone was asked to describe the 2015 NBA trade deadline in seven words, that would be the most fitting description. Thirty-eight players were involved, not to mention a slew of draft picks, and maybe a few broken smartphones from the incessant calls along the way.
For some teams, if there ever were broken phones, it's all part of the occupational hazard. For others, not so much. And that could apply for players, too, and us as fantasy basketball loyalists. Somehow, we have to sift through our roster up and down once again and throw away the ones that appear to be not in a position to help in the season's stretch run.
Needless to say, we might find something of value in this deadline deluge. Here is the NBA trade deadline fantasy impact in the current crop of dealt players.
Trending Up
Reggie Jackson
Two words: Must add. Season-long, daily, head-to-head, roto. Whatever. You must play Reggie Jackson right now.
The OKC backup is now Motor City's starting point and he wanted the freedom to run his own team so much that it's unlikely Jackson will mess this opportunity up. He has been putting up ghastly numbers as of late and couldn't hide the disappointment when his playing time went from the high 30's in November to 19 minutes a game in February.
But make no mistake about it, RJ can produce, only not in a crowded backcourt as the Thunder's. The Boston College product is good for 16.5 points, 5.2 rebounds, and 5.5 assists per 36 minutes this season and given the Pistons' point guard situation, there's no reason why he could not level or top those numbers.
Goran Dragic
Goran Dragic's situation in Phoenix is not as drastic as Jackson's in OKC, but you can say it's very uncomfortable that it made the Slovenian spew unsavory comments towards the front office. Sure, Dragic averaged over 16 points in 33 minutes of playing time but the backcourt situation made him play out of position, sometimes as a small forward in Jeff Hornacek's scheme of things.
Now in Miami, Dragic should receive all sorts of green light from Erik Spoelstra as the team's primary ballhandler. Neither Mario Chalmers nor Shabazz Napier is good enough to challenge last year's All-NBA third team member and even with Dwyane Wade suiting up, the promise of a high Usage Rate is still going to be there because of the unfortunate Chris Bosh situation. Even a glimpse of the 20-point, 6-assist averages Dragic posted last year is a welcome thing for current owners.
Rudy Gobert
When he's not busy commenting on Ariana Grande and Nicki Minaj's behind, the "Stifle Tower" likes to stuff every mortal brave enough to venture inside the paint. And oh, with the Jazz trading Enes Kanter to OKC, he has the opportunity to do what he's good at for more than 22 minutes a night he's currently playing.
Anything close to 30 minutes should make Gobert a must-play in any format, especially in daily leagues where rebounds and blocks are given a premium.
Other good values from the deadline: Isaiah Thomas, Thaddeus Young, Michael Carter-Williams
Trending Down
DJ Augustin Augustin should go from being the seventh-best fantasy PG in the past 30 days (ranked ahead of Jeff Teague and Damian Lillard, among others in the Player Rater during that span) to practically a must-drop in all formats following the trade to OKC Thunder. Unless Russell Westbrook or Kevin Durant gets injured, the journeyman combo guard may see somewhere between 12-18 minutes per night. Yikes!
Reggie Jackson must have something to say to him. ("I know how you feel, homey.")
Brandon Knight This was a risky trade for for either team, period. Milwaukee probably took a step back in their quest for a first playoff appearance since 2010. Phoenix, while getting Brandon Knight's Bird rights, could still lose him via restricted free agency if a team decides to overpay him.
And this could be a value-killer for a guy who should have been an All-Star this year!
Rated currently at No. 18 in terms of players' value sorted by averages, Knight is going to be playing alongside another ball-dominant guard in Eric Bledsoe for the remaining 27 or so games. The situation would have been more precarious had Isaiah Thomas remained but it's still chancy ball we're playing here.
Arron Afflalo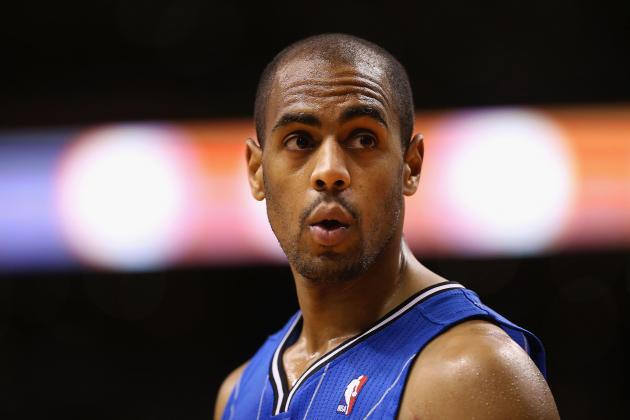 Arron Afflalo's fantasy value ain't much but he's serviceable. But now playing behind Wes Matthews and Nicolas Batum, I don't know if there's any more to salvage from Afflalo in a fantasy standpoint. Unless the Blazers decide to take huge chunks of minutes from Matthews' and/or Batum's already high odometer mileage (which is a reasonable option in my opinion), consider Afflalo dumpable in all formats.
Potential bad values: Enes Kanter, K.J. McDaniels
1,561 total views, 1 views today