NBA DFS Best Value Picks– March 14, 2017
The Studs
Steph Curry, PG, Golden State Warriors ($9,800)
The Warriors is now officially the second seed of the Western Conference after spending most of the season on top? Well, losing Kevin Durant was tough but it could only mean more touches and Usage Rate for their real top dog in Steph Curry.
Curry is dropping an average of 46 fantasy points in the past 5 games and when he finds his deep shooting back, that can easily go up. Golden State will host Philadelphia next.
Paul George, SF, Indiana Pacers ($8,200)
PG13 has been on a tear lately, reaching at least 46.75 fantasy points in four of the past five.  New York is almost dead last in stopping opposing small forwards so expect George to have a field day out there.
Other option: Draymond Green, PF ($7,700)
The Middle Men
Victor Oladipo, SG, OKC Thunder ($6,300)
Despite Russell Westbrook's ball-dominant ways, it's a surprise that Oladipo's Usage Rate is only down less than 2 percent than last year with the Orlando Magic. He has averaged over 30 fantasy points in the last four games and seeing him play 38 minutes against the Jazz is an encouraging sign. Brooklyn is having trouble stopping people (especially shooting guards), so Oladipo might be in for a big night.
Guillermo Hernangomez, C, New York Knicks ($5,300)
Hernangomez benefitted a lot from the absence of Joakim  Noah and is basically averaging a double-double in the last four games. His minutes are fluctuating, though, but even that did not stop Willy from averaging nearly 12 points and 10 rebounds a game during that stretch along with a couple of assists. Indiana does not offer much resistance to opposing centers and that is an encouraging sign for Hernangomez.
Other option: Myles Turner, C ($5,700)
The Bargains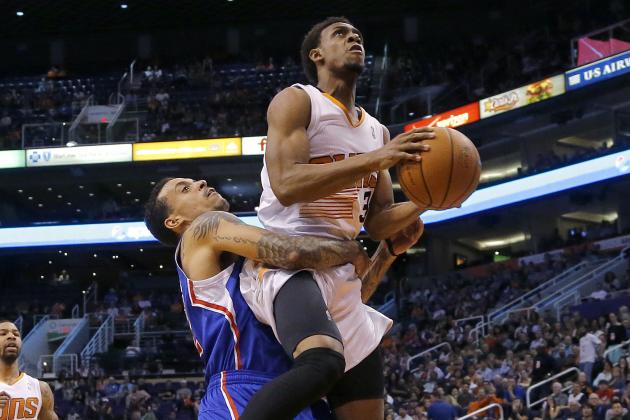 Ish Smith, PG, Detroit Pistons ($4,200)
Smith is only averaging 20 minutes in the last 5 outings but he accumulates assists in a hurry, allowing him to still pour 24 fantasy points a game during that same stretch. Reggie Jackson, the starter, is not exactly the most reliable guy out there and if he messes up against Cleveland early, Stan Van Gundy could be inclined to play the pass-first Smith more.
Matt Barnes, SF/PF, Golden State  Warriors ($3,700)
Call this a punt play with high upside, Barnes has a solid outing the last time out (33.25 FP) with Draymond Green resting. Green is back in the active lineup but Barnes' solid line (14-9-5) may have convinced Steve Kerr to play him a little bit more with the rest of the gang. Either that, or you can go with Andre Iguodala, whose playing time is up to 30 a game in the last five even though those did not translate much in fantasy terms.
Other option: Andre Iguodala, SG ($4,600)
Note: All salaries and stats are from Draftkings.com
Mandatory Credit: Kyle Terada-USA TODAY Sports
2,582 total views, 2 views today