It's very seldom for young studs to go right on and be statistically dominant right away. As such, growing pains are to expected, and it sometimes take very long, too.
However, more often than not, these young players have shown capabilities that sometimes belie their ages. They may be 15-20 minute rotation guys now or buried at the end of the bench for long stretches or being taken for the ride as soon as they boarded the ship. Regardless, let's stop the guessing game and get right to it.
Here are the most likely future breakout stars in NBA fantasy.
1. Mason Plumlee, C Brooklyn Nets
If not for Brook Lopez still hanging around, Mason Plumlee would not even be in this list. The Nets were unable to unload Lopez in the deadline and that left Brooklyn with no choice but to showcase their All-Star center so he'd find themselves a tutor this summer.
Just to be clear, Lopez is the better player right now but the Nets seem to be going in a much different (younger) direction and Plumlee is in the forefront of their plans. In the whole month of January where Plumlee played his best, the former Duke Blue Devil averaged over 13 points and 7 rebounds, while averaging over a steal and a block per game.
While that may not be overwhelming by any means, a little seasoning and a boost in minutes could make Plumlee's numbers go up in his per-36 minutes range: 15 points, 11 rebounds, 1.3 steals, and 1.4 blocks. Polish the ugly FT% and you've got yourself a mini-stud ladies and gentleman.
2. Elfrid Payton, PG Orlando Magic
While I hate the overabundance of hair, I'm going out on a limb and say Elfrid Payton is the best point guard in the 2014 class. He's better than Marcus Smart and Dante Exum right now and he's going to be better and it's just not about playing time. It's about statistical diversity.
Payton has had a very good month averaging 13.2 points, six rebounds, 8.4 assists and almost two steals in 14 March games. That included two consecutive triple doubles against Dallas and Portland in back-to-back games (March 18 and 20) and a near-3D opposite Cleveland last March 15.
Shooting percentages leave a lot to be desired but the tools are right there. It's just a matter of putting it all together.
3. Nikola Mirotic, PF/SF Chicago Bulls
The dude can flat out play. I can guarantee you that if he's playing somewhere else other than the crowded Windy City frontcourt, he'll be an All-Star next year.
But therein lies the rub.
Tom Thibodeau prefers his veteran guys play and that almost always makes Mirotic the odd man out unless someone's hurt. Thankfully, someone is often hurt in Chicago and I don't know if that's the basketball gods' idea of justice but if I am any team in need of a very capable frontcourt inside-out operator (which is basically everybody), I'd give up assets to acquire him.
After the All-Star break, the Montenegro native averaged 17.3 points, seven rebounds, 1.5 assists, 0.7 steals, and 1.1 blocks in only 27 minutes. What if he played nine more?
You do the math. And I hope Thibs is doing his, too.
4. Jusuf Nurkic, C Denver Nuggets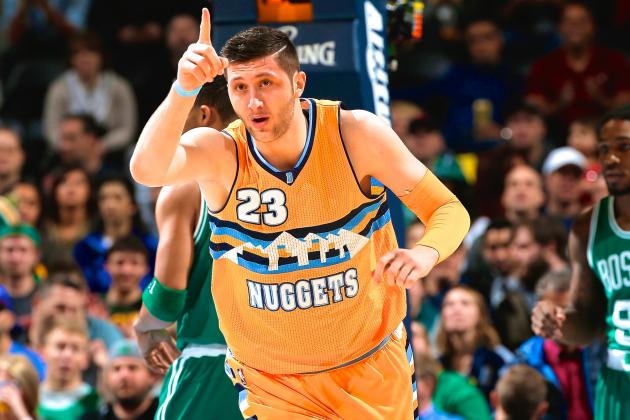 Well, if you're out partying in the night of the trade deadline, it was quite the news: The Denver Nuggets made everyone tradeable, expendable. Everyone except this guy.
If you haven't quite know the guy is, that's the Nuggets 16th pick in the recent draft. He's very good in protecting the rim and opponents shoot at just 46.2% if he's guarding the paint. To put that in perspective, he's better than Anthony Davis (48.3%), DeAndre Jordan (48.7%), Pau Gasol (48%), and Andre Drummond (48.2%) and puts him in a defensive par with the great Tim Duncan.
The Bosnian Bear is averaging an unholy 13 rebounds, 1.7 steals, and 2.5 blocks per 36 minutes. Throw in that 14 points and you got yourself a quality starting center. If he only he could just stop committing those silly fouls…
5. Zach Lavine
Zach Lavine is barely three weeks over 20 years of age and it shows. It shows by the way he turns the ball over like it had some slippery butter and it shows by how inefficient he is. But then again, the hate stops there, at least when you're thinking about how good he can be.
Lavine started games for Minny this year when Ricky Rubio's busy hurting himself and oh how delicious can it be? In 30 games as a starter, the former UCLA Bruin averaged 12 points, four rebounds, and five assists including a 27-point performance in Utah and a career-high eight assists against Houston.
If the kid gets his tools right, who knows how good he can be?
6. Mitch McGary, PF OKC Thunder
One of these years, Mitch McGary is going to make Serge Ibaka expendable. Crazy? No.
While Ibaka is aesthetically a better defender, McGary isn't far behind either. In fact, they're practically one and the same.
According to Basketball Reference, Ibaka has a 103 defensive rating while McGary has 101 this season (though OKC scores two more points per 100 possessions with Ibaka on the floor, which makes them even.) That is only a small sample size and Serge has been terrorizing opponents for years, but that only shows how good McGary is as a player in only his rookie year! (That will allow OKC to maybe offer more money to Enes Kanter and trade Ibaka for more assets, a very Sam Presti-like thing to do but that's a story for another day.)
Per 36 minutes: 16 points, 12 rebounds, 1.3 steals, and 1.2 blocks
1,746 total views, 3 views today