Only five days to go before the season ends but like every slowpoke will say, it's better late than never. Here's your options from a six-game Saturday.
Daily Fantasy Basketball Lineup Advice April 11
The Studs
Blake Griffin, PF ($8,700)
The secret to getting production this late in the season is to roster players that actually play for SOMETHING. They'd still go all out because they know one slippage could mean the difference between having homecourt advantage or starting the playoffs on the road. (Case on point: The Rockets went from No. 2 to No.6 in a few days by virtue of their back-to-back losses to the streaking Spurs. Not surprisingly, Pop's boys seem to be peaking at just the right time being winners of 10 straight and climbed from No. 6 to No.3.)
The Clippers still have a chance to go up as high as No. 2 in terms of overall record, but will secure a lower likelihood because the Warriors already secured the division (and conference). For them to have a chance at a better record, their stars including Blake Griffin should step and man up against Marc Gasol and the Grizzlies.
The uber-athletic power forward often rests in blowouts but play heavy minutes during competitive games, meaning the likelihood of him producing like the Golden State (70 fantasy points), Portland (47.75), and Lakers (45.25) is very, very high. The same can be said of Chris Paul and DeAndre Jordan, but I got a feeling Blake's got this one in the bag.
Hassan Whiteside, C ($7,000)
Speaking of playing for something, the Miami Heat's playoff hopes literally hangs in the balance. Whiteside has scored in the 40's in two of the past three games and the Heat badly needed the double-double, shot-blocking monster that he's capable of. Chances are, he will be that guy.
The Middle Prices
Nicolas Batum, SF ($6,400)
The Blazers are short on wing guys (Arron Afflalo and Wes Matthews are both out) so they'll need Nicolas Batum to step up his game. Even then, the Blazers are likely to open the playoffs on the road (against LAC, Houston, San Antonio, or Memphis depending on how the final games play out) with a slim chance of securing home court.
Batum has scored in the 30's in five of the last seven.
Tobias Harris, SF ($6,600)
Some teams are lottery bound either way but it'll still be nice to pick up a few wins along the way. Harris has had sub-par last couple of games but if he gets going, could surprise you with high 40-pt games. New York is where he grew up and you know how it is playing in your backyard.
The Bargains
Robert Covington, PF ($5,300)
Covington is one of the season's biggest surprises but on hindsight, his play is up-and-down. Now in the homestretch, Covington gets a chance to play big minutes once again because of Nerlens Noel's injury.He dropped 37.8 points against Washington and has averaged 26 fantasy points in his last four games.
Rodney Hood, SF ($4,700)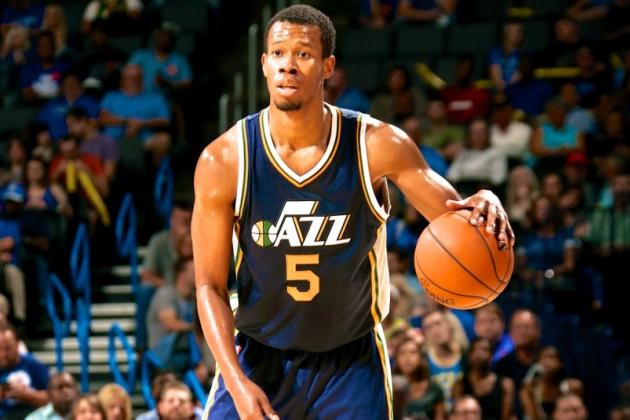 There won't be any shortage of bargains in this slate and one of those cheaper options in the SF is Rodney Hood. He has seen heavy workload lately because Gordon Hayward is a little banged-up, playing 34, 33, and 37 minutes, respectively during the last three games. Hood has scored an averaged of 34.67 FP during that span.
Meyers Leonard, C ($3,800)
LaMarcus Aldridge is going to be held out in the Jazz game and the most likely beneficiary is Meyers Leonard. The young big man enjoyed a career night when he started against Brooklyn so it's safe to assume he'll get more minutes than the other big man in the rotation Chris Kaman. If he does, the former lottery pick is almost a lock for a double-double, posting 13 points and 11 rebounds per 36 minutes this year.
1,972 total views, 1 views today