As busy as teams are right now, I would've mistaken everything as a February trade deadline rush. Clearly, all the General Managers pulled the trigger for one reason and one reason only: for the improvement of the team.
For fantasy owners, we couldn't care less. (Actually, we do, but not to the fullest sense.) All we wanted is see what these transactions do or will do to our teams and then act like a smart GM will do.
The trade that went through Friday was minor compared to the one that swung Thursday. But in our little own world, there is no such thing as minor or else, you'll find yourself on the outside looking in, receiver of all the crap talk from your friends and office mates. We wouldn't want that now, do we?
In a nutshell, the three-team trade between the Houston Rockets, Minnesota Timberwolves, and the Philadelphia 76ers goes something like these:
Rockets receive Corey Brewer and Alexey Shved
Wolves pick up Troy Daniels from Houston and two future second-round picks
Sixers get Ronny Turiaf from Wolves along with another second-round pick
Not much to the untrained eye but the ripple effect could possibly alter how things go especially in very competitive leagues. Having said that, the wave should be felt mostly in Houston and Minnesota while Philadelphia will essentially have everything like it is since Day 1.
Houston Rockets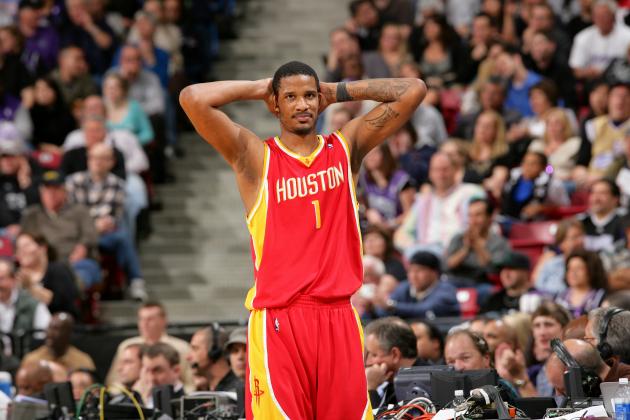 One sentence: Trevor Ariza owners is due for a regression. It can be safely said that this trade is done to preserve the playoff-tested Ariza, but in fantasy, a minutes restriction (kinda) is not what we want. The former UCLA Bruin has topped at least 40 minutes in 10 of the last 12 games and is averaging 38.4 for the season! If that continues, he'd wear down come May and for a team with championship aspirations, the Rockets wouldn't want that to happen.
Best case scenario: Ariza's efficiency could improve. He has failed to hit at least half of his shots for the last 17 games and maybe a little breather every now and then could help him regain the stroke. Fingers crossed TA owners!
Worst case scenario: Ariza losing all his minutes to Brewer, who is basically the same type of player, but with more facial hair.
Seriously, though, Ariza is a way better shooter than Brewer so him losing majority of his minutes to the former Gator is not going to happen by any stretch of the imagination. If anything, a little minutes competition is healthy in some situations, "some" being the operative word.
Minnesota Timberwolves
The Bounce Brothers are safe y'all. Brewer is doing more harm than good in the development of these talented youngsters so without the veteran in front of Zach Lavine in the depth chart, the athletic guard is up for major minutes even with the impending return of Mo Williams. Of course, same goes for Wiggins who can now slide to his more natural small forward position and could bounce with Lavine for more minutes than ever before.
And did we even mention Shabazz Muhammad, the 25-point, 6-rebound, 2-assist performer for the last 3 games? Swooping the lefty up soon is good for your fantasy interests. And by soon I meant right now. For all we know, this trade is all abut him as much as it is about Lavine and Wiggins.
1,524 total views, 1 views today