Basketball games are played everywhere, but not every one of us has access to pristine, shiny, indoor courts. If I have to bet, 80% of us play hoops on dusty courts, which is still cool if you wear the right shoes. Yes, you need to have the best basketball shoes for dusty courts, or you will easily sprain an ankle or slide all over the place. Whichever comes first.
I don't want that; you don't want that, nobody wants to see anyone getting hurt. So for these reasons, check out my recommendations for the best basketball shoes for outdoor dusty courts.
Best Basketball Shoes for Dusty Courts
Best SC shoes since Curry 2

Full-length HOVR cushioning

Silhouette Style: Mid-top


Top 5 Adidas basketball shoe of all time

Excellent cushioning and traction
My Favorite Picks For The Best Basketball Shoes For Dusty Courts
Nike shoes are the frontrunners to everything that has to do with basketball shoes, so it would only be natural to pick something from their ever strong roster of basketball sneakers. And with everything said, I am choosing the Nike PG 3 Men's Basketball Shoes.


Perfect traction with those little suction cups that keeps away dirt and dust. You won't have to wipe often, or at all.

Heel slips are not going to be an issue.

Superior lockdown
The only possible complaint that you might have with regards to the PG 3 is how snug it is at first. All PG shoes start that way, at least in my experience, but after a proper break-in, you will begin to see why this model is on this list. I won't go out and say this is the best PG shoes ever because obviously, it's a matter of personal preference but when we're talking about traction and lockdown, two things that you'll need from a shoe if you're playing on dusty courts, this should be your go-to shoe.
The best thing with Under Armour is they always go back to what works best when it comes to traction. Well, herringbone was still their go-to traction pattern, but for some reason, they experimented with a circular pattern with the Curry 6. I guess it's safe to say it still works!
Probably the best SC shoes since Curry 2.

The knit material is cool and durable while needing only a short break-in time.

Full-length HOVR cushioning
There's not so much to hate on this wonderfully versatile shoe that has no weakness. While I do think the herringbone traction pattern should be implemented here, I'm not going to complain about the Curry 6. It has gripping traction, awesome cushion with the HOVR utilization, and great court feel.
Runners-Up For The Best Basketball Shoes For Dusty Courts
For the shoes that are in this category, I feel they still get the job done but may be lacking in one area. At least, that's how I feel about the Nike Kyrie Flytrap II.
There's not much to expect on a budget model but if you're playing on dusty courts, you might give this one a try. It's not perfect– far from it, in fact– but you can get it for probably less than $60.
Traction is underrated, and it gives you maximum court feel

Solid support

The cheapest among the group
The Kyrie Flytrap II is a solid shoe, but you may be looking for trouble if you have some bad legs or knees. This model offers almost no cushioning at all and maybe best for the younger and lighter players that don't have any previous injuries.
In many ways, it's just like the Flytrap to the Kyries. It's a budget model that offers something, but it's definitely not for everyone because it may be lacking in one particular area that some players need.
Superb traction, which is what you need playing on dusty courts

Soft cushioning

Low price
The KD Trey 5 VII is considerably better than the Flytrap II in terms of performance, but what it lacks is in the materials. No one could have mistaken the Flytraps for premium basketball shoes, but the KD Trey 5 VII is a step back in that regard. It also doesn't have that much support, so I think it will be better off for guards rather than big men.
Superb Value For The Best Basketball Shoes For Dusty Courts
This category is where I feel price and performance meet. Most high-end shoes perform well, but if you see a pair where you can't find a cause for complaint at THIS price, cop that one real quick.
The Air Versatile series are cheap shoes to begin with, but you will be surprised how well they perform. Again, no one will have mistaken them for a premium. However, its limitations are understandable, and the things that it offers are present in most higher-priced shoes. Either way, they are worth a look.
Possibly the best-performing budget basketball shoe from Nike

Super lightweight

Fits like a glove
Most of the complaints about the Nike Air Versatile III are about its aesthetics and durability. Some purchasers had trouble with its Air Max bag. But outside of that, the shoe just works.
Oh my, where do I begin? If I can put this on the favorite, I would! The T-Mac Millennium has an SRP of about 150-180 USD, so what is it doing here? That's because most of its colorways have been on sale for around $60. At that price, the Millennium is an absolute steal!
Cushioning and traction are top-notch

Not just one of the best shoes in the year it was released (2018), but it's arguably top 5 Adidas basketball shoe of all time

Possibly the best Boost setup of any Adidas basketball shoe
All of the reasons above make the Adidas T-Mac Millennium a must-cop, whether you're playing on dusty floors or not. There's not much to complain about a shoe this excellent except maybe for the materials, which needs a little break-in time.
Why You Should Buy Quality Basketball Shoes For Dusty Courts
As mentioned in the outset, not all of us can play or have access to clean, indoor courts. Most of the time, basketball courts are mired in dust, pebbles, and grime, which makes it much tricky to play on. But wearing the best basketball shoes for dusty courts should at least solve some of the problems. These shoes are known for their phenomenal traction so you wouldn't be sliding all over the place, risking injuries.
How To Choose The Basketball Shoes For Dusty Courts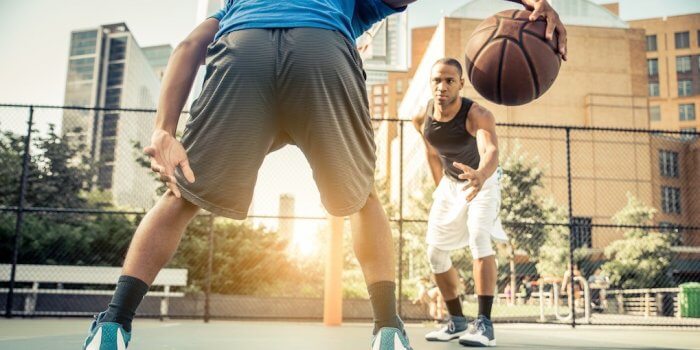 All of the shoes mentioned above are great starting points. However, each basketball player has different needs, so you must choose accordingly.
The PG 3 and the Curry 6 plus the T-Mac Millennium are the ones that would have worked best for versatile players because they have no apparent weaknesses in what they offer. The Curry 6 is probably better suited for guards than big men, but I don't see any problem if the lighter forwards choose them.
If it's the budget that concerns you the most, some colorways of the Millennium are on sale. Still, if you have not come across these pairs, the Flytrap II, the KD Trey 5 VII, and the Nike Air Versatile III are also solid pairs that won't cripple your savings.
Bottom Line: What Are The Best Basketball Shoes For Dusty Courts?
My top picks for the best basketball shoes for outdoor, specifically for playing on dusty courts are the PG 3 and the Curry 6, followed by the Adidas T-Mac Millennium.
The PG 3's traction, which are like little roundish suction cups, works like a charm on dirty courts, and many who have bought the PG 3 said they don't even have to wipe the dust off of it. Now, if that's not amazing, I don't know what is.
Curry 6 is also an excellent choice since it is well-rounded with no apparent weakness. Every single one of its features simply works well together to form one badass of a shoe.
I have sung enough praises for the T-Mac Millenium, and I'll repeat it: If you come across a pair on sale, it is a must-cop. If it's still on SRP, that's obviously your choice, but a shoe of that quality should have no business being sold at $60. That's highway robbery right there!
For the cheapest shoes on the list, I'd choose the Air Versatile III, the KD Trey 5 VII, and the Kyrie Flytrap II, in that order. I do have knee and foot problems, so I couldn't (and shouldn't) wear a shoe that's as hard as a rock. All of these are still viable options, and it would ultimately depend on you which one fits your needs at the moment.
2,463 total views, 5 views today