An NBA rookie's life is difficult but once figured out, it could be a gateway for more opportunities and eventually, success. Aside from Karl-Anthony Towns and Kristaps Porzingis who turned out to be formidable sources since Day 1, these 5 sophomores have " FANTASY SUPERSTAR" written all over them. Will they take the next step this season? Only time can tell but we sure hope they do.
1. Justise Winslow, SF, Miami Heat
Winslow will step into a bigger role in Miami this season with the departure of Dwyane Wade (Chicago) and Luol Deng (Los Angeles Lakers). The former Duke Blue Devil already earned starter's minutes last year (28.6 MPG) even with the presence of Wade and Deng so expect the small forward to play more, as well as much-improved numbers. It's no surprise that Winslow is a part of three of the Heat's five best 5-man lineups that played at least 80 minutes together last season.
Winslow is already one of the better wing defenders in the league but offensively is where he have to show himself capable in order for him to reach the next level. Can he do that? He will have his share of difficulties but with the Heat in dire need of scoring options, he has no choice but to answer the call. As a vote of confidence, here I am listing Justise at #1.
2. Mario Hezonja, SG, Orlando Magic
Hezonja showed glimpses of what he can offer as sharpshooting two-guard with excellent athleticism (12.2 points, 4.5 rebounds, and 2.8 assists per-36 minutes) . To gain the trust of new head coach Frank Vogel, however, he needs to prove he is not a defensive liability. That's easier said than done but with only Evan Fournier ahead of him in the totem pole, the Croat has all the time in the world to leave an impression. If he can do that quickly, then we may have Hezonja on our fantasy rosters sooner rather than later.
3. D'Angelo Russell, PG/SG, Los Angeles Lakers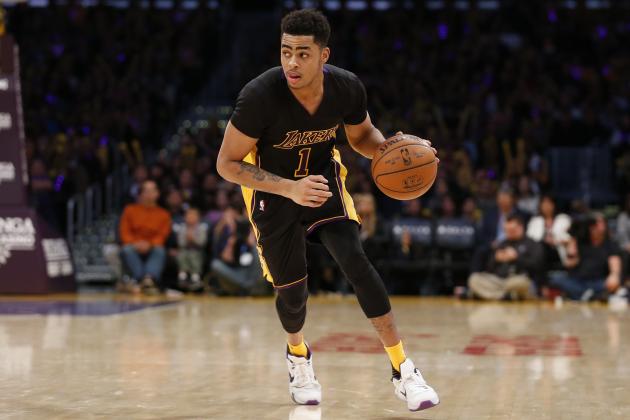 Unlike Winslow and Hezonja on this list, Russell is as sure a thing as any to break out next season. His summer league domination aside, D'Loading was a pretty good player in his own right last season especially without Kobe Bryant. Russell's stats are visibly better when he did not have to share ballhandling duties with Bryant though his shooting efficiency pays the price a little bit.
Even with all the uncertainty surrounding his role and playing time under then-coach Byron Scott, Russell's points per-36 minutes without Bryant is actually better than Porzingis' (18.1) and just a little behind Towns' (20.6). Russell claimed he 'has been living in the gym' the whole offseason and with the freedom he'll acquire inside Luke Walton's system, Russell is the best bet to have a monster season amongst the sophomores not named KP or KAT.
4. Bobby Portis, PF, Chicago Bulls
Portis is not the efficient scorer you would like a power forward to be (42.7% FG last year) but if he could polish that up a little, he will be a very productive player. The Arkansas product is a nightly double-double threat (14.2 points and 11 rebounds per-36 minutes) and has the potential to be a 1+1+1 guy in the future (0.5 3PM+ 0.7 BPG + 0.8 SPG per 36 last year). Portis only averaged under 18 minutes a night last season but with the huge minutes void left by Pau Gasol and Joakim Noah, those has nowhere to go but up.
5. Devin Booker, SG, Phoenix Suns
If you are not sold on Devin Booker as a star, it's your loss. Booker has already established himself as one of the better shooters and scorers in the league last season at 18 years of age! The former Kentucky Wildcat was the fourth-youngest player to reach 1,000 career points behind only LeBron James, Kevin Durant, and Kobe Bryant. But Booker showed a game last year that was not entirely based on his ability to but the ball through the hoop. He recorded two double-digit assist games in February and March, respectively, while averaging 19.2 PPG after the All-Star break.
Of course, the scoring efficiency suffered a slight dip but if he can put it all together (and in time he surely will), Booker has superstar written all over him. The only problem for Suns coach Earl Watson for now is how he can incorporate Booker in his guard rotation that also has Brandon Knight and Eric Bledsoe in it.
6. Emmanuel Mudiay, PG, Denver Nuggets
I am very high on Mudiay last year as the Nuggets' primary ballhandler but his performance in general has left a lot to be desired. Mudiay averaged 12.8 points, 5.5 assists, 3.4 rebounds, 1.0 steal, 0.5 blocks, and 1.1 3PM last season which was okay, except that he did not particularly shot well from anywhere (32% 3PFG, 67% FT, and 40.4% EFG). Not what you would like to see from a point guard.
Mudiay is still stone-set as Denver's point guard of the future and will most likely give him all the needed repetitions to develop. That is why Mudiay is still one of the top choices as sophomores most likely to break out next year.
7. Myles Turner, C, Indiana Pacers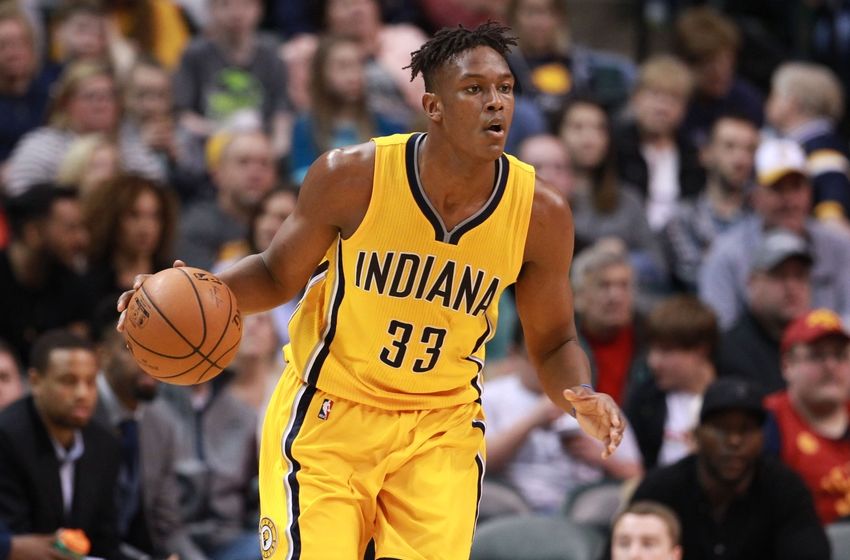 If somebody draws a prototype NBA center of the future, it would have the image of Myles Turner in it. Turner draws comparisons to LaMarcus Aldridge but Turner is already a better scorer than Aldridge was at this point of his career. Aldridge, like Turner (5.5 RPG), was a pretty mediocre rebounder early in his career but has averaged double-digit rebounds in two of his last three seasons.
Turner, however, is a much better shot-blocker (averaged 3.3 blocks in Indiana's 7-game series vs Toronto) and has the potential to extend his range out to the rainbow territory in time. We can curb our excitement on Turner's game but I guess it isn't too much to ask around 13 points, 8 rebounds, around 2 blocks per night, right?
1,511 total views, 1 views today