1.) Kawhi Leonard
I mean, this playoffs is all about this guy so we might as well talk about him first.
*Finished Game 5 with 35 points, seven rebounds, and nine assists– the dimes tying his career-high.
*He shot 90% from the stripe in 51 attempts in the series while in comparison, Giannis Antetokounmpo shot 60% on 50 attempts.
*He is on pace to become the third-leading playoff scorer in Raptors franchise history behind Kyle Lowry, DeMar Derozan, and Jonas Valanciunas. He only trails JV by 10 points and Kawhi only played 17 post-season games for Toronto.
*He has an outside shot to shatter Michael Jordan's single post-season scoring record. MJ is the all-time leader with 759 points while Kawhi is at 524, a differential of 225 points. If he can play seven more games and average 33 points, he will re-write the record books.
2.) Kyle Lowry
Lowry played another beautiful game finishing with 17 points, seven rebounds, and six assists. He also is the all-time playoff scorer for the Raptors with 1,126 points on 66 post-season games.
Lowry is already the franchise playoff leader in three-pointers made (138), assists (405), steals (89) and minutes played (2,422)
3.) More Kyle Lowry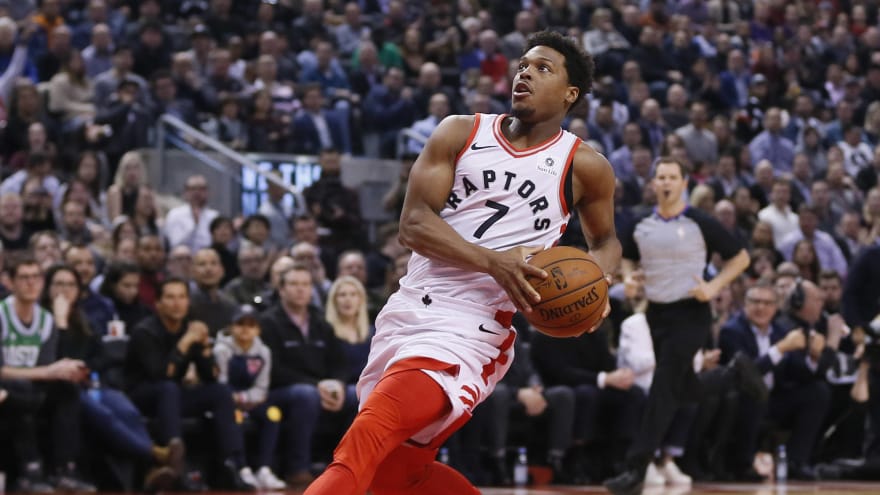 The Raptors have lost only one Game 5 since 2014, the Lowry era. That one loss came in 2018 against LeBron James' Cavaliers. Over that span, Toronto is 8-1.
4.) Raptors D
Toronto's defense has held opponents under 100 points in 10 games out of a possible 17. In comparison with the other Conference Finals teams, Warriors have three games out of their 16, Portland five games out of a possible 16, and Eastern Conference rivals Milwaukee with three games out of 14.
5.) Comeback Kids
Since Steve Kerr took over, the Golden State Warriors have won 11 playoff games where they were down by at least 15 points. The rest of the NBA has FOUR wins.
Featured Image: Jeff Hanisch-USA TODAY Sports
2,084 total views, 2 views today