We have already reached the quarter mark of the season and we pretty much have an idea how the rotations went, who we can and we can't trust night in and night out. The dynamics will surely be different after the All-Star break and I reserve my judgement when we cross that bridge.
As a team, what really surprised me more than the Milwaukee Bucks is the Houston Rockets. The Bucks' management had all the trust in the world with Jason Kidd, let him play around with the lineup a bit and voila! Number 6 in the Eastern conference playoff race. Kudos!
However, the Rockets is purely on another level. Having said that, Kevin McHale deserves a lot of consideration for the Red Auerbach trophy when the smoke clears. I personally thought that after Dwight Howard busted his knee, the Rockets should be in pure scramble/survival mode but nothing of that nature happened.
Speaking of, D12 returned against Denver last December 13 and obliterated everyone in his path, recording 26 points, 13 rebounds, 2 assists, a steal and a couple of blocks. The good news: 30 minutes, which tells us Howard is as good a play as anyone in all fantasy formats.
After whole teams, let's not forget individual fantasy basketball surprise packages. Here are some of them, starting with…
Rudy Gay
As far as I can remember, I never drafted Rudy Gay ever in 10 years of playing fantasy basketball. I completely abhorred his efficiency and his shot went as low as .408 in the middle of the '12-'13 season. Realistically, as Memphis shipped him north of the border, it's no coincidence the Grizzlies got only better from there.
But things change.
Gay's game rounded up the minute he landed in Sacramento and shot a career-high 48% from the field while delivering over 3 dishes a game (also career-best) and matching his highest PPG average since 2008 last season. Maybe it was simply a blip on the radar but this year was an encore, even with the co-emergence of DeMarcus Cousins beside him.
After 24 games: 21.1 PPG, 6.4 RPG, 4.7 APG, 1.1 SPG, 0.5 BPG, 1.1 3PM with .440 and .878 from the field and the line respectively.
Kyle Korver
Back in the day, Kyle Korver was simply a hot waiver wire commodity if you're looking for 3-point specialists. That was the case when he was with the Bulls and Sixers, but that's not remotely even close now that he's a Hawk.
Korver went from strictly a shooter to an underrated defender, passer, and rebounder, churning out averages good for 15th in the Player Rater. Second round value for someone that went undrafted until the eighth round of most drafts. Admittedly, I didn't have much faith in the guy fantasy-wise that I never even came close to drafting him in my mind.
Worst. Decision. Ever.
Average after 23 games: 13.2 PPG, 4.1 RPG, 3.1 APG, 1.2 combined steals and blocks with almost 3 triples a contest. Percentages? Hint: He doesn't miss much.
Markieff Morris
It's not an easy task identifying Markieff from twin brother Marcus, but check out the box scores and you'll instantly see who's the better SUN.
Markieff is the perfect stretch four to complement a dynamic backcourt but he is a fantasy stud all by himself. The bigger Morris ranked 28th in the Rater overcoming expectations as an 8th-round fantasy draft pick.
Average after 24 games: 15.1 PPG, 6.5 RPG, 2.4 APG, 1.4 SPG, 0.8 BPG with one trey an outing. 80% from charity and over 47% from the field sealed the deal.
Brandan Wright All negativity aside, Brandan Wright has not and probably will not justify the Warriors picking him 8th overall in 2007. He was picked ahead of Joakim Noah and Marc Gasol, all of whom are defensive stalwarts that anchor their respective squads.
In a fantasy perspective, however, it looks like the former Tar Heel is carving his own very nice niche as a high-efficiency backup big in Dallas. Up to this point, Wright is the only player in the Rater owned by less than one-fourth of all leagues. His numbers are pedestrian to say the least but the efficiency numbers are astounding, making 74.4% of his shots en route to 8.8 points, 4.2 rebounds, and 1.5 blocks in only 19 minutes a game.
If he keeps the field goal shooting, Wright is going to break a 41-year-old record set by the Big Dipper himself, Wilt Chamberlain. "Stilt" shot a whopping 72.3 percent in the whole 72-73 season to set the all-time mark, which is seriously in danger thanks to Brandan Wright.
Brandon Knight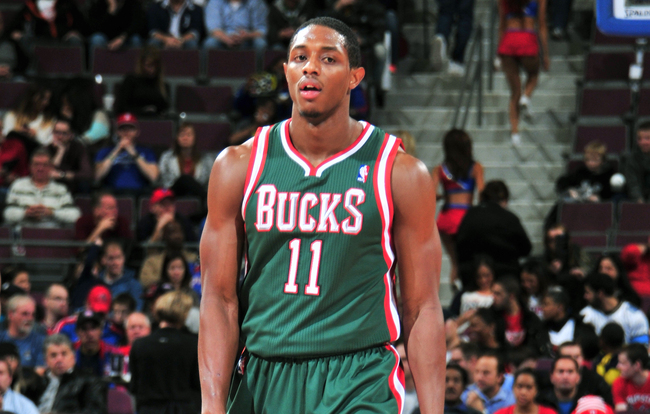 The motor to which the surprising young Bucks is running, Knight turned a lot of heads recently with stellar, All-Star caliber play. Knight is currently averaging 17.4 points, 4.6 rebounds, 5.6 assists, and 1.4 steals while shooting 89% from the line in almost 5 attempts per game. The 43% clip from the field is a bit discouraging but the former Kentucky Wildcat is hitting two treys an outing, which sort of cancelled the measly percentage.
1,615 total views, 1 views today