Daily Fantasy Basketball Advice March 28
It's only five games but there are a lot of golden opportunities to win if you look these players' way this Saturday.
The Studs
LaMarcus Aldridge, PF ($8,700)
LA has been somewhat inconsistent the past four games–scoring in the 40's and 50's sandwiched by games of the 20 and 30-point variety. So how ill Saturday night go? There's no way to tell but the match-up suggests it could probably be the former. In the two rather poor games, Aldridge locked horns with Gasol/Randolph in Memphis and Favors/Gobert at Salt Lake while drawing a smallish Denver frontcourt at HOME on this one.
The last time they met Denver, Aldridge got himself going and burned the Nuggets with a 39-point, 11-rebound performance so history is on his side now.
Jimmy Butler, SG ($8,000)
The Butler has returned with no eye-popping play to boot. He did well against Charlotte and Toronto, but the most encouraging sign is there seems to be no restriction on Butler's minutes. Will this be the time to put it all together on display? I know he–and all his teammates– won't be facing much resistance against a feeble New York Knicks team.
The Middle Prices
Al Jefferson, C ($6,700)
Big Al's price was down a thousand bucks from two weeks ago and if a borderline stud falls down steep like that, you've got to keep your options open. Atlanta has been doing a fantastic job holding opposing centers down but Jefferson has historically done well against the Hawks. Back in November 7, he scored 34 points, grabbed nine boards, and dished out three assists against them so it's not like you're taking too much of a blind chance on Big Al on this one.
Ersan Ilyasova, PF ($6,700) Ilyasova has been on an ungodly tear lately, scoring at least 43 FP in three of the last four outings. The Bucks will be facing a very explosive Warriors team at home and it could be over before I even digested my dinner, but then again, in the case of Ilyasova, when it rains it pours.
The Bargains
Dennis Schroder, PG ($4,600)
Schroder will only have real value if Jeff Teague is out and guess what, Teague might be probably out for a second game in a row. The German-born point guard had 12 points and 11 assists in a top seed-clinching performance by the Hawks against the Heat but it actually could be better.
Langston Galloway, PG ($5,100)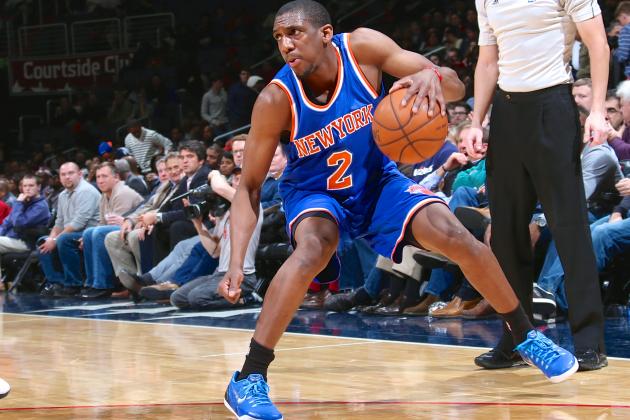 The season-ending fractured rib injury to Alexey Shved meant more minutes and opportunities for Knicks guards Langston Galloway and Shane Larkin. Larkin is learning the ropes but Galloway has shown flashes of brilliance, even reaching 37 points against Memphis.
2,405 total views, 1 views today