With all the sidelights in the first half of the 2015-16 NBA season, the second chapter promises to be as lively, if not more.
It appears to be no stopping the Golden State Warriors but a San Antonio Spurs team with Tim Duncan in the middle will be a different beast if they ever meet again in Texas. The Los Angeles Clippers is definitely playing very well without Blake Griffin and rumor has it the Clippers management are looking to dump Blake to Colorado in exchange for Kenneth Faried, Danilo Gallinari, Will Barton and Nikola Jokic. (The report also says it was Denver– yes DENVER– who turned the deal down.)
And how about the Cleveland Cavaliers out East with Tyronn Lue's fast-paced mentality?
Everything considered, here are 5 bold predictions in the second half of the NBA season.
1. Rockets Won't Make The Playoffs
The Houston Rockets is currently in the mix for a playoff spot but if the post-season starts now, they'll be on the outside looking in. Yes, Utah and Portland, is playing better basketball right now and it would seem like they are not getting the most out of Dwight Howard, who is reportedly pouting again about something.
The Ty Lawson experiment is a disaster, they couldn't stop nobody (fifth in the league in DEF rating) and relies too much on the three-point line than anything else (league-high in attempts but 16th in accuracy). Like the great Jerry Sloan said, if you have the guts to take that many shots from deep, you have to make it. They just couldn't.
Then we have a problem.
2. If OKC couldn't make it this year (which they won't), goodbye KD and Russ.
Let's face it, the OKC Thunder is CHEAP and CHEAP teams does not make it in the NBA. True, the salary cap will increase dramatically next year but even then, I don't think the tight-wad guys in Oklahoma City would change their approach.
Eight seasons of excitement and explosiveness for Kevin Durant and Russell Westbrook yielded only one NBA Finals appearance (a pathetic one if you ask me) and has fallen short so many times than I can count in one finger.
They're better off somewhere else, either as a duo or as individuals.
3. D'Angelo Russell Will Make A Run At The ROY Award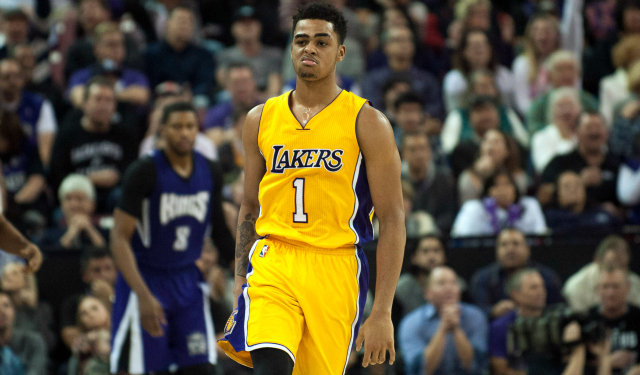 I am not saying he'll win, but he will make a run at it. There is no reason to hold back D-Loading now (unless Byron Scott doesn't take his medication) and there is no sense playing Lou Williams more minutes than Russell at this point.
The former Ohio State standout has topped double-digits in 14 of his last 16 games and in those outings, he only topped 30 minutes SIX times. Imagine what those young legs can do if it gets around the 36-minute vicinity.
Oh, we need not imagine. According to Basketball Reference, Russell is good for 16.2 points, 4.8 rebounds, 4.4 assists, and 1.6 steals in 36 minutes. That's some pretty good numbers and if he consistently flashes those, he can be a very attractive trade bait for the Los Angeles Lakers, if you know, they decide to upgrade at the point.
Just saying.
4. Steph Will Win MVP But GSW Won't Repeat As Champs
I know, I know. Even president Barack Obama says the 2015-16 Warriors is the greatest in NBA history (that's accurate at least record-wise), but something tells me Gregg Popovich will have something up his sleeve when May comes around. I have been watching the San Antonio Spurs a long time and I know what they are capable of. If everybody is healthy on that roster, they have the experience, the depth, and the smarts to throw the defending champs off their game.
 As far as that MVP trophy goes, I mean, we can just give it him now and nobody's feelings will get hurt, right James Harden?
5. Cavs Will Make A Trade Before The Deadline That Will Help Them In The Playoffs
In my opinion, the Cleveland Cavaliers are the untouchables in the Eastern Conference. The Toronto Raptors are coming along, but they are a piece or two away from becoming real contenders. Chicago? Too inconsistent.
Having said that, Cleveland has some manpower problems of their own. Timofey Mozgov is barely the man who at times was the team's best player in the NBA Finals, Iman Shumpert is having the worst statistical season of his career, and they have not completely figured out hot to get the best out of their Big Three.
Rumor has it that the Cavs have their eyes on a couple of Sacramento Kings benchwarmers Kosta Koufus and Ben McLemore while also targeting Atlanta Hawks sharpshooter Kyle Korver. Korver is on the wrong side of 30 but is definitely what the Cavs offense needs while Koufus and McLemore is obviously an upgrade over Mozgov and Shumpert at this point.
In the end, I believe Cleveland will make things happen to satisfy LeBron James and conversely, there are many role player-types out there that would die to play with him.
They still wouldn't get past Golden State and San Antonio in June, though.
Mandatory Credit: Kelley L Cox-USA TODAY Sports
4,420 total views, 6 views today