Note: There will be 12 teams with four games scheduled for week 7 (which makes it ideal for streaming options) while 16 has three. If possible, stay away from Boston and San Antonio since they only have a two-game week.
1.) Josh Hart, SG/SF, New Orleans Pelicans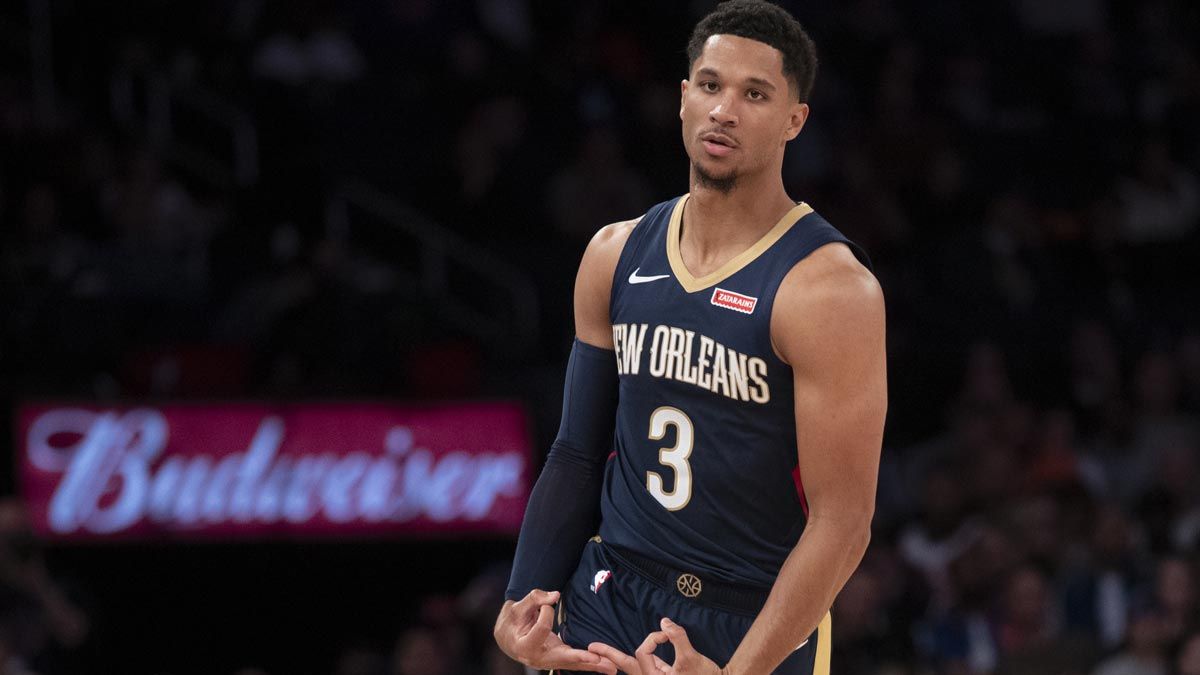 Many thought Hart will have a hard time cracking the 25-30 minute workload range since his injury but lo and behold, here he is topping 30 minutes twice in a row in just his second and third games back.
Alvin Gentry has his reason for that, though. Aside from plays that will never show in the stat sheet, the former Villanova Wildcat can stuff the box scores. Over the past two, Hart is averaging 10.5 points, 7.5 rebounds, two assists, 1.5 steals, and a block per game. Moreover, Keinrich Williams looks like he will miss time so Hart's path towards meaningful playing time is unhindered as of the moment.
The Pelicans have three games scheduled for Week 7 but I won't hesitate to pick up Hart, who is owned in only 44% of Yahoo and 15.7% of ESPN leagues.
2.) Carmelo Anthony, PF, Portland Trail Blazers
Where else can you look if you need some extra scoring punch and someone who can positively affect FG% (at least, for now)? Of course, Melo could, who is averaging 17.7 points shooting at a 46% clip on 15 attempts in three.
The rebounds (6.0) and assists (2.2) are somewhat of a bonus although I don't think he'll be able to maintain his shooting from the field especially against better defenses.
Even so, Melo has been a hot commodity since his Blazers stint, owned in 64% of Yahoo leagues and 36.3% over at ESPN. Four games this coming week will surely determine if he's worth keeping longer.
3.) Duncan Robinson, SG/SF/PF, Miami Heat
Well, what do you expect from a guy named after two Spurs greats? Certainly not deep shooting, but Duncan Robinson has proved to be one of the best shooters so far in the league this season.
That's why if you're looking for three-point help with extra goodies, Robinson has made multiple treys in nine of the last 10 games including a total of 11 3PM over the last three games. That's tied for eighth in the NBA during that span, even ahead of Kemba Walker, Donovan Mitchell, and Luka Doncic., according NBAstats.com.
What about percentage wise? He is good for 55% shooting from deep in the last three games, ranking second in the league in percentage of anyone who has made at least 11 treys since Nov. 28.
4.) Larry Nance, Jr., PF/C, Cleveland Cavaliers
One of those guys who will play only three games on Week 7 but I don't mind picking up, Nance has been an absolute roto monster since the Nov. 21 game against Miami.
Over the last six outing, LNJ stuffs the stat sheet with averages of 13.6 points, 8.8 rebounds, 1.6 assists, and 1.2 "stocks". His "stocks" are normally above that but Nance has been making two treys per game over that stretch and boasts a 59% shooting clip from the field. Who am I to complain?
And for you advanced stat junkies out there, LNJ also leads the Cavs in PIE (Player Impact Estimate) in the last six games with 14.6.
Availability: 22% Yahoo, 52% ESPN
5.) Gary Harris, SG/SF, Denver Nuggets
Harris is one of the biggest disappointments this season ranking way outside the top 100 as of the moment. However, when he is healthy and getting minutes, he has one of the most fantasy-friendly games there is.
You should obviously take this with a grain of salt but over the past two games, Harris is averaging 18 points, 3.5 rebounds, 1.5 assists, two steals, and a block while making a combined 5 three-pointers.
Denver has four games in the upcoming week and here's to hoping Gary Harris finally gets going. Harris is available in 47% of Yahoo and 87% of ESPN leagues.
Featured Image:
STEVE MITCHELL / USA TODAY SPORTS
2,020 total views, 2 views today