If the season is officially over, who are your candidates for Most Improved Player? Well, that's a tough question since the "Most Improved" tag can simply be theoretical. Is your MIP rose from relative obscurity to prominence? Someone who was good but kept adding up to his game? Or perhaps a first-time All-Star?
Who knows, but every young star appearing on this list definitely has a case. Let's start with someone from the most pleasant surprise teams, the Oklahoma City Thunder:
1.) Shai Gilgeous-Alexander, PG/SG, OKC Thunder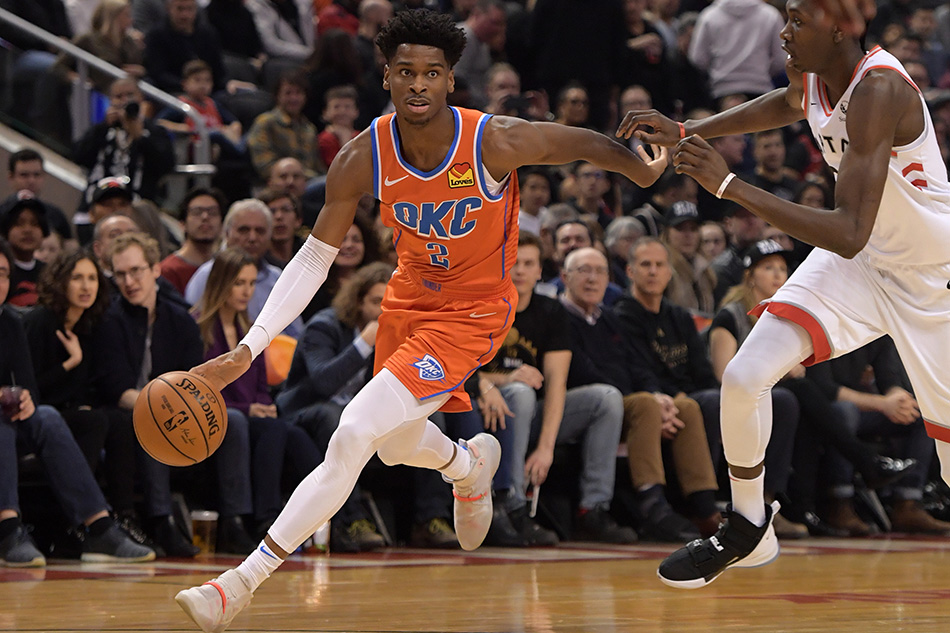 While Chris Paul may be the most important player right now for OKC, the same can be said of Gilgeous-Alexander. Or CP can be the most important, and SGA can be the best on the roster.
Whatever the case, the second-year player from Canada is a big reason why the Thunder is 16 games above .500 and could even sneak into the top 4. He made OKC's rebuilding effort a little less hurtful because really, who's in a middle of a rebuild and still has a chance of making noise at the playoffs?
Why He Is The MIP
Whether we like it or not, the numbers play a big part on the choice. From a respectable 10.8 PPG last season for the Clippers, SGA leads the team with 19.8 PPG while grabbing 6.1 RPG, up from 2.8 last year.
As expected, the assists numbers flat-lined, not a bad thing since he is playing with one of the best PGs the league has seen. Even so, SGA is undoubtedly OKC's most versatile perimeter defender and his length and size allows Billy Donovan to play three guards to close out most games. (That lineup boasts a net rating of plus 30.2 in 314 minutes this season with all three on the floor.) And SGA is the key to unlock whatever the Thunder is doing on both ends of the floor.
2.) Brandon Ingram, SG/SF/PF, New Orleans Pelicans
At the top of my head, if I had to give the MIP to someone, it's this guy. In my opinion, he has made the most incredible leap of out anyone from last season to the current one. He has since cooled off with the offense centered on Zion Williamson, but he can still score when he needs to.
Why He Is The MIP
What Ingram has done this season before Zion played puts him in rarefied air. Only 11 players, including the likes of Michael Jordan, LeBron James, and Charles Barkley, has averaged at least 25 points, has a Usage Rate of 29%, has a TS% of 60%, and an assist rate of 20%.
That mellowed down a bit as he adjusted next to Williamson but he is still at 24 PPG, 28.2% Usage Rate, 59 TS%, and 19.8 Assist rate. That's still freaking elite however you look at it.
3.) Luka Doncic, PG/SG, Dallas Mavericks
If there is someone who made the most significant leap, it's Luka. He became a Tyreke Evans-good rookie to an arguable top-5 player in the league! In a span of a season!
However, if I have the decision, I'm a little less inclined to give him the MIP because I was expecting him to be a top 5 player this early in his career. In the case of Ingram, I expect him to be good but not THAT good, that's why he has my vote as the MIP. That's obviously not a valid reason at all. Who penalizes someone because they're expected to be great? Obviously someone like me that's why I'm glad I don't have a vote on this ballot.
Why He Is The MIP
As I said, if we're talking improvement, what Luka has done in a span of a season was unheard of. I won't dare call him a problem since a problem can be solved; he can't. Only four other players averaged 28-8-8 for a season, and most of them are already in the league at least four years when they did it. For comparison's sake, Jordan did it in year 5; Luka did it in year 2.
4.) Bam Adebayo, PF/C, Miami Heat
The first All-Star game selection could have been enough to put Adebayo in this conversation but let's elaborate a little.
Bam has increased his averages across the board, which was to be expected, but his ability to be a hub for the Heat's offense in long stretches is the real treasure to his game. Only Nikola Jokic has been better than him in Assist Rate for centers this season but that's unfair since Joker has a six percentage points advantage on Bam in Usage Rate.
Why He Is The MIP
To put it into perspective, Adebayo went from Larry Nance, Jr. to Nikola Jokic in a span of a season. If that's not a huge leap, I don't know what is.
5.) Devonte' Graham, PG/SG, Charlotte Hornets
The guy is a long shot but still deserves special mention here, becoming a borderline good backup point guard to one of the most prolific three-point shooters in the league, seemingly overnight.
Averaging 35 minutes his second year after playing 14 minutes per game in his rookie season, Graham is in the 64th percentile for points per possession as a pick and roll ballhandler. That's not elite, don't get me wrong, but that's better than Zach Lavine, Spencer Dinwiddie, D'Angelo Russell, DeAaron Fox, and Ja Morant.
Why He Is The MIP
He is not but that should not take away from his improvement. The Hornets are bad but Graham owns the highest net rating among their starters and from anyone who appeared in 40 contests. He also is in the 85% percentile in spot-ups (PPP) but since he is the team's primary ballhandler, he did not have as many opportunities as he would have liked.
The Bottom Line
If we're talking purely about improvement, Luka Doncic is the Most Improved Player. However, if we're talking about an astronomical improvement THAT TOOK US ALL by surprise, it's Brandon Ingram. I don't have a rational reason why I picked Ingram over Doncic but I'm sticking with BI all the way.
P.S. Jayson Tatum deserves a spot here but most of the argument on Luka can be applied to him on a lesser degree. That's not a knock on Tatum, though, 'cause if Luka is arguably top-5, Tatum is arguably top-10 right now. That's pretty damn good.
Featured Image: (AP Photo/Gerald Herbert)
3,019 total views, 2 views today