The unpredictability of the NBA life is what makes it more exciting and to a certain degree, more frightening. As a fan, I'll take the former any day, with smaller doses of the latter during lethargic stretches.
Speaking of EXCITING and FRIGHTENING, you may have heard something about Russell Westbrook and Derrick Rose, that is, in any event you didn't purposely hide your computer and smartphones the past few days. The two All-Star point guards are heading in different directions right now at this point in their careers.
Westbrook has been in full Oscar Robertson mode in February averaging 31.2 points, 9.1 rebounds, and 10.2 assists (with 1.6 steals and 1.2 three-pointers made) in 12 games. True, we have never seen him quite like this ever and frankly, nobody in the whole league is playing quite like Russ at any point this season.
The former UCLA Bruin is in the middle of a three-game triple-double run and if it wasn't for a late-game freak injury in the overtime loss to Phoenix, there's plenty of reason to believe he'll go on and make it to at least five consecutive. At any rate, Westbrook's historic run and nightly display of morbid– if unholy– quest to embarrass anyone in his way, is a thing of beauty.
While that may render Westbrook virtually un-tradeable, we welcome any of those statistical explosions on daily fantasy leagues. His salary is high-end but so is his production.
And for D-Rose? Sigh. I'm with everybody on this one.
There's a reason for optimism in the Windy City for reports indicate he may be back in as little as a month, just before the post-season starts. Rose's prolonged absence isn't exactly new to Chicago, who may come up with a variety of ways to combat the void left by the 2011 MVP.
Aaron Brooks offers the higher statistical upside (18.8 points, 4.9 assists, 3.2 rebounds and 2.6 treys per 36 minutes) compared to Kirk Hinrich but neither guard is an elite playmaker, which makes Joakim Noah such an indispensable piece in the Bulls' current make-up. The shaggy-haired big man has posted at least eight assists in three of the last four outings as coach Tim Thibodeau looks for him to facilitate the offense at the center position.
Weird yet very effective.
NBA Fantasy Forecaster Week 19: Players To Watch Out For
Mo Williams
After being dealt from Minny to Charlotte, Mo Williams has gone absolutely berserk. He has four-game averages of 23.5 points, 3.5 rebounds, 6.0 assists, and 1.5 steals, not to mention almost four treys on a 40% clip! Williams is still available in almost half of leagues and his production will soon taper off, but there's no fault in riding this incredibly hot streak.
Terrence Jones
Welcome back, T-Jones!
You're looking at the seventh-best power forward in the last 15 days in terms of categorical averages and this is just a sign of better things to come. Only owned at less than half of leagues, Jones has shown to be a multi-category asset who is primed to replicate his five-game averages of 15 points, 10.6 rebounds and three swats.
Henry Walker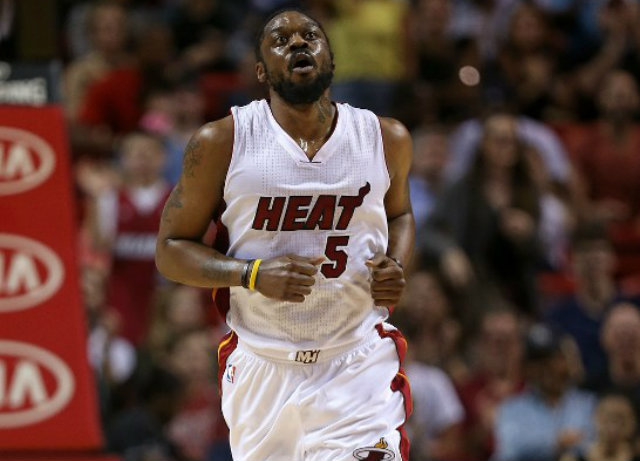 Henry Walker was on a two-season hiatus in the NBA but the way he's playing right now, he surely looks someone who belonged, if not, a regular rotation guy.
Miami dealt practically half their SG/SF depth chart to acquire Goran Dragic and left them searching for a capable wing man among the free agents. The 27-year-old Walker came into the scene and immediately became a very valuable contributor to a team with playoff hopes. He saw action for 21 minutes in his debut and cracked 30+ for the next two, making him one of the cheaper points and treys options (with sneaky rebounds and steals) available, especially in daily leagues.
Pat Riley has since brought Michael Beasley back in South Beach but until we see Bease knocking off Walker in the PT battle with our own two eyes, the KSU product is a worth a look at the very least.
1,256 total views, 1 views today