Based on the headline alone, you can readily see that I'm somewhat biased when it comes to the events I'm going to watch in the NBA All-Star Weekend in Chicago this year. I think the Dunk Contest and the Three-Point shootout is when I see a semblance of competition, so I'm not going to miss that for anything. Unless the NBA decides to include a King of the Court competition (or something of that sort) for the Saturday festivities, them slam dunks and three-pointers are going to be the center of the spotlight.
The All-Star game this year could be different, with the Kobe Bryant twist and all but unless they play defense from the very first possession up until the last, it's not worth two hours and a half of getting glued to your seat.
I'm not saying the All-Star weekend is not interesting. I definitely loved it when the NBA allowed big men to participate in the Skills Challenge. I think the bigs do have a chip on their shoulder going up against the guards. Karl-Anthony Towns and Kristaps Porzingis (and Jayson Tatum, if you consider him a big) have already done it before so it's not impossible but somewhat a tall task for the big guys.
That said, here's my prediction for every All-Star event and P.S. I'm skipping the Celebrity Game.
Rising Stars Challenge: USA vs The World
When the NBA reformatted it to USA vs The World since 2015, Team World has a slim advantage, 3-2, over Team USA. But even with Luka Doncic for the World, team USA probably had four next best players in Zion Williamson, Ja Morant, Trae Young, and Jaren Jackson, Jr. Of course, DeAndre Ayton (World) may have something to say about that but that four alone can be devastating in the open court.
Aside from quickness and athleticism, Young, Kendrick Nunn, and Devonte' Graham all boasts elite three-point shooting in a league full of elite shooters. Graham and Young, of course, are participants in the Shootout so we all know they can get volcanic from distance at any given time.
The key for Team USA will be to break the game wide open from the get-go and not allow closers such as Doncic and Shai Gilgeous-Alexander to work them on the halfcourt. With this game all about showboating and highlights, I think USA can do just that and dispatch The World by a wide margin.
Skills Challenge
I have always gone for the underdog and in this event, big men are the underdogs so I'll pick one from them. Domantas Sabonis, statistically, has the least chance to win from the crop, but as a big guy who can pass (4.8 APG), I don't think he's the odd man out.
Remember, the key to the Skills Challenge was hitting the bounce pass and then the first shot, which happens to be from the mid-range. Sabonis is ninth in the league in percentage of points from mid-range among center-eligible players. He definitely has a shot to win this one.
Three-Point Shootout
Trae Young is the biggest name among the group but I'm going to go with Duncan Robinson here. Almost 90% of Robinson's attempts come from behind the arc so there's nobody there that is used to shoot that shot other than DR.
Slam Dunk Contest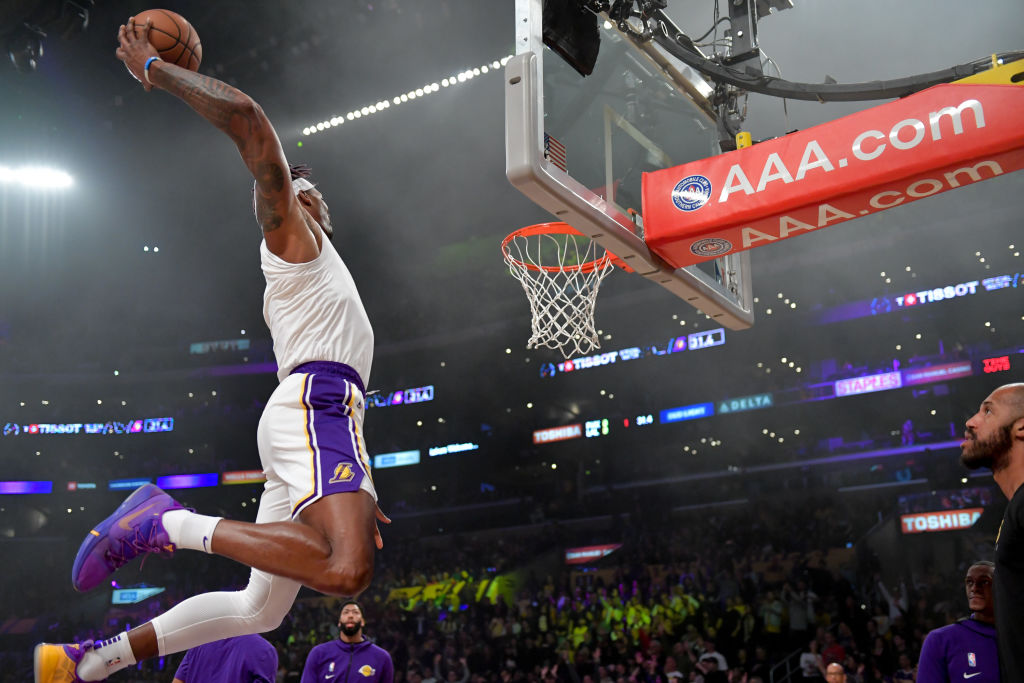 There will probably be props and alley-oops all around but when it comes to sheer hops, athleticism, and creativity, Aaron Gordon is the man. However, like I said, I am always rooting for the underdog so I'm going to pick Dwight Howard.
Dwight is not the athlete he once was but as a former Slam Dunk champion, he may have a few tricks up his sleeve to get the crowd behind him on Saturday night.
The All-Star Game
There are changes with the rules to the All Star game (you can read it here) but a basketball game is a basketball game.
Team Giannis has six All-Star first-times, which means they are hungrier, but I don't think Team LeBron with a more experienced crew could lose. And with the All-Star game dedicated to Kobe, there is no way LeBron, Kawhi Leonard, Jayson Tatum, Russell Westbrook and Chris Paul (all very close to Kobe) will let this one slip.
Maybe next year. Just maybe.
Featured Image: via Fox Sports
3,178 total views, 2 views today