If you want to be a fantasy basketball rockstar, you have to pay your dues. Nobody can be naturally good at something so that means you have to work hard for it. Even if some are born smart, they still have to use that brain of theirs to be good at something.
So what's the point? Because you do want to earn money easy (I presumed that's why you're here in the first place), you have to spend time on it. Once you've figured out the initial flurry, you'll be able to handle everything well.
In daily fantasy basketball, 50/50 and Head-to-Head (H2H) leagues offer you the best chance to win and cash out. In 50/50's, you'll just have to finish in the top half of a tournament, but in H2H, you only need to beat ONE opponent and you're going off with the majority of the cash.
But as we already pointed out, it's not that easy. Picking a line-up is only a part of it. Having said that, follow the tips below on how to win daily fantasy basketball H2H leagues and you'll end up on the long end of the stick more often than not.
Game The System
And by system, I meant "scoring" system. The two most popular sites FanDuel and DraftKings differ on their scoring and any serious fantasy basketball player should take that into account. FanDuel rewards free throws and scores the points category depending on the made FG which is basically the same as giving +1 on every point. DraftKings gives bonus on double- and triple- doubles and an additional 0.5 points on every three-point shot made. FanDuel penalizes carelessness more than DraftKings.
Why bother acclimatizing to this point system? Well, if Russell Westbrook does have 9 assists for a game but has 7 TO's to go along with it, his value on that category is all but killed if you're playing FanDuel rather than DraftKings. And the day Steph Curry made 11 three's made it all the more valuable in DraftKings than in FanDuel.
Know the nuances in each DFS site's scoring system or if you're never the one to get your head all dizzy, stick to maybe one or two.
Safety First
As in the 50/50 contests, there's no room for being cute with choices. You have to draft the most known consistent players around. Marcin Gortat, whose season is roller coaster to say the least, may not be a friendly choice than say, Zach Randolph, who scored in the 30's, 40's and 50's nine times in the past 10 games.
Of course, you can't just stuff yourself with studs up and down. When selecting players to round up your line-up, that's when you have to rely on minutes and matchups. Right now, Gerald Henderson (5,100 on DraftKings) is one of the cheapest SG you can find with that type of production recently. That's what you get when you only have the most hated man Lance Stephenson to fight your minutes for and two of your best teammates (Kemba Walker and MKG) are out. And somehow, every time Memphis meets OKC, Tony Allen gets a lot of minutes because HE HAS TO check on one of the Thunder's superstars. That, in turn, can get his stats up. Minutes= production in fantasy.
There you can see the matchup to minutes to production correlation. Hoopstats and NBA.com can give you a wide range of matchup statistics you can delve with.
Research on Your Opponent
If you want to win daily fantasy basketball H2H leagues, then you got to do some covert detective work. Over the course of the season, you're going to find out that you play the same guys. So get that little diary of yours and take notes like crazy. Some just pick the same players over again just like how people stuck to their lottery numbers for years. You can pick similar players but put a different stroke on the right places so you can come out on top.
Sometimes you just have to play the man and not the game.
Choose Your Games Wisely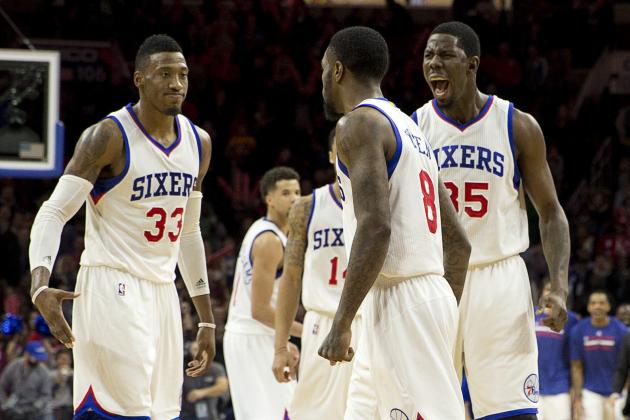 Like a pro, you have to take some games off sometimes. Take a pass on two-game slates or play it for free. Take the court when squads like the Sixers here, or the Pistons, the Wolves, the Lakers, the Suns, the Blazers, the Warriors, the Rockets, and all the high-octane teams play. That's when you get to tinker and play a little bit and select some cheapies and high quality studs altogether. And oh, if one of them meets on an arena at the same time, that's where the real fun comes. Fantasy bonanza people!
Factor in the Schedule
NBA players are humans, too, and they get tired. Just ask Pop. And even if, say, the Sixers or the Wolves are in tonight, that does not automatically mean you have to pick Robert Covington or Thad Young in a heartbeat.
You have to ask these questions: Are they playing back-to-back, the fourth in five games? Are they on the end of a seven-game road trip or in the middle of a five-game homestand? Are they going from one coast to the other? Did they play in an OT game last night? And the list goes on. You don't want tired players on your roster just as much as you don't want tired chefs cooking your food. The fresher the better.
Make that calendar your friend, baby.
Be a Social Media Siren
This is got to be the easiest tip in the bag. Follow all the teams' Twitter accounts including all the giant sports networks like ESPN. That's where you can get the latest injury news, who's coming back, who got arrested and everything in between.
Is MCW still out tonight? So I gotta go get Tim Frazier on the cheap. D-Wade's wearing suits again? I'll get Chris Bosh and all those usage rate. Or something like that.
2,523 total views, 3 views today