In case you missed it, Phil Jackson engineered another highway robbery of a trade Wednesday, acquiring Derrick Rose from the Chicago Bulls "for two scratch and sniff lotto tickets, one of Shawn Kemp's nine kids & a bootleg copy of Rihanna's CD," that is if you're paying attention to Gilbert Arenas.
Well, it's either the Zen Master pulled the wool over the Bulls' brass or the other way around, Chicago's FO knowing D-Rose has one too many under-the-knife sessions that could make a metal detector turn off from half a mile away.
Having said that, there's no question the Knicks won the trade just by the star power alone. The Bulls got nothing of Rose' (former) caliber in return, content with Robin Lopez, Jose Calderon, Jerian Grant and a 2nd-round pick next year. Unless of course they think Lopez can cover Joakim Noah or Pau Gasol's departure, then good for them.
However, for fantasy basketball's sake, let us take a look at the implications of the Derrick Rose trade to both teams' most valuable fantasy commodities:
Winner
Jimmy Butler
With Rose gone, the Bulls sticking it out with Butler, himself a subject of trade rumors, is the logical conclusion (unless a crazy, lopsided, blockbuster deal comes up). Butler beautifully emerged as a offensive first option in Rose' frequent absences while not compromising what he can do on the defensive end, either.
Butler is the 3rd best shooting guard in ESPN's Player Rater behind James Harden and Klay Thompson and ahead of Gordon Hayward, DeMar Derozan, and Andrew Wiggins. The two-time All-Star noticeably plays Better without standing next to Rose, upping his scoring (19.6 to 27.7 PPG), rebounds (4.2 to 7.2 RPG), and assists (4.4 to 7.0 APG) in 11 games without the 2008 MVP.
It's a relatively small sample size but provided Butler stays in the Windy City putting up those kind of numbers, he could be worth a late first round to early second round choice.
Losers
Derrick Rose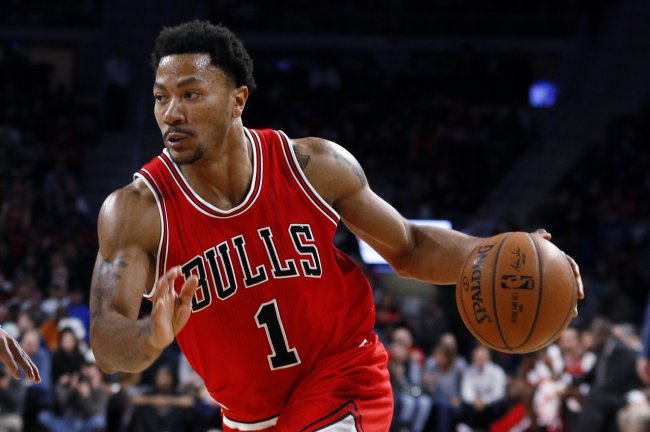 He's on a steady decline, he'll be playing in front of an unforgivable crowd, along with two players who need touches to be effective. If you're the new guy like Derrick Rose, you could be the odd man out.
Rose ranked 148th on ESPN's Player Rater last season and 38th among point guards behind the likes of, ironically, Jose Calderon, T.J. McConnell, and Shane Larkin. Much of his value lies on his scoring (16.4) but does very little anywhere else (3.4 rebounds, 4.7 assists, 0.7 3PM) to at least make him top 15 in his position.
There is little hope of Rose improving from last season's disappointing showing, especially in New York with Carmelo Anthony. Anthony needs to feed– to the tune of 18.2 FGA and a 29.5% Usage Rate– and if you're Rose, who had a 27% Usage Rate in 32 minutes yourself, those stats is going to take the brunt of the impact.
Carmelo Anthony
Yeah, you see this coming.
The bad thing is, whether New York wins or loses, Anthony's production has got to give. The Syracuse product does not have the kind of all-around game LeBron James has nor the defensive chops to justify his past ADP of early-to-mid second round. Not with less shots and touches because of Rose's presence.
Still, a natural scorer like Anthony will find ways to get his chunk of meat but possibly not without its fair share of downs. Will fantasy owners be patient with him? I know I'm not, unless the guy slips into the fourth and then he'll be a heck of a steal.
Photo via: rantsports.com
1,301 total views, 2 views today