February 23 features eight games for the ongoing 2015 NBA season and you know what that means for fantasy junkies: Wriggle room to play and play some more!
Many daily fantasy basketball players favor DraftKings over any other DFS sites because of the ease of use and overall gameplay so this will be all references to the said site.
Let us get this straight: This is only a daily fantasy basketball lineup advice column and we can only do so much for you. As you might already know, the KEY in winning DF basketball is finding diamonds in the rough– sources of fantasy points on the cheap that found their way into rotations because of injuries and whatnot. It also does not hurt to include some mid-tier hoopers, who doesn't average to the high 30's, but are capable of scorching given the right match-ups.
Basically, it's your job to find them out, but we make it easier by narrowing down the choices for you.
The Studs
Chris Paul ($10,000)
Against Memphis? No doubt.
There's a saying that great players couldn't but stopped but rather, contained. A "contained" Chris Paul is still better than 90% of all guards. The Wake Forest product saw a 25-point FP output in the game with Sacramento but you can throw it off the window. It's a blowout win and by chance, Austin Rivers woke up at the right side of the bed and dropped 28 on the Kings, which might not happen ever.
CP3 should see his steady diet of playing time (around 35 mins) and fantasy points (around 43).
James Harden ($10,500)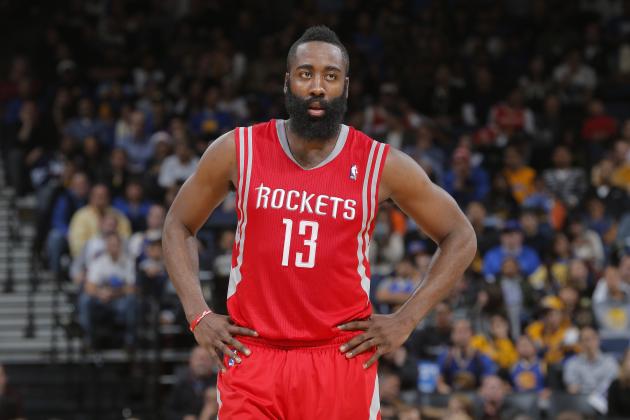 The Bearded One is so good that even a cameo appearance did not hold him back from posting 39 fantasy points against Toronto. 39 in 29 minutes! As far as statistics are concerned, Harden got it locked up, with or without Dwight Howard. Over the past 10 games, Harden only recorded below 30 fantasy points once (27 points against LAC) but that stretch also saw him blast Portland and Phoenix with back-to-back 70+ games.
We just hope Minnesota will give Houston a good fight for at least three quarters. By then, Harden will have got you 40.
DeAndre Jordan ($8,800)
I thought DeAndre Jordan's effectiveness hinged largely on Blake Griffin's offensive prowess but that wasn't the case. Since Griffin went down with a staph infection, "DeAndre The Giant" posted two 20-20 double-doubles and one with 26 and 18. Against Sacramento, he had 37 fantasy points in just 20 minutes! Even against a powerful Memphis frontline, the Clips doesn't have any other weapons so there's a good chance Jordan still gets his fair share.
And oh, Z-Bo and Marc played the other night, so that's an advantage for DJ.
The Middle Prices
Dwyane Wade ($7,200)
The 2015 season hasn't been good at all for Dwyane Wade and the Miami Heat but the recent turn of events should allow "Flash" to be the man in South Beach again. Chrish Bosh is out for the rest of the season with blood clots in the lungs which should leave a lot of usage rate for Wade to come around. The Marquette University product played in only 22 and 30 minutes, respectively, since his return but look for the PT and fantasy production to go up SOON.
Brandon Knight ($6,500)
Knight came off the bench and played 24 minutes in his Phoenix debut resulting to the lowest fantasy points he had in quite some time. However, with the Suns organization touting the former Wildcat as the best player in the trade, it's hard to imagine Knight being limited from hereon out. The last time Knight went out and played Boston, he torched the Celtics with 26 points with 5 rebounds and 4 assists for good measure.
Joakim Noah ($6,900)
When Joakim Noah plays, he produces. That's a simple fact. And by producing, doesn't necessarily mean scoring. He may have only scored 3 points in the win versus Phoenix but the 12 rebounds and 8 assists (with a steal and a block) enabled him to get to 33 fantasy points for the night. If Noah stays healthy, he is a must-play just because he can stuff a stat sheet any time of the day.
At 6,900 bucks, he's worth a shot.
The Replacements
Alexis Ajinca ($4,000)
Anthony Davis is missing and so is Ryan Anderson so that meant minutes and production for the French big man. Ajinca is a very able plug-in option, recording 12 points, 8 rebounds, and a block in seven games he logged 20-29 minutes, most of which when Omer Asik or Davis goes down.
4,000 bucks sounds just about right.
Isaiah Canaan ($3,000)
Isaiah Canaan won't be the Sixers point guard of the future (heck, even MCW isn't) but damn right he's the present. In his debut with Philadelphia, Canaan punched 14 points, 3 rebounds, 4 assists, and a block, good for 26 fantasy points. At the minimum salary, that's everything a fantasy owner can dream of!
Just cross your fingers Tim Frazier doesn't play better.
Jerryd Bayless ($4,400) The Bucks traded away Brandon Knight and got Michael Carter-Williams in the process, but they won't be having the latter for the time being. That catapulted Jerryd Bayless to the starting role and he did a pretty good job. In the past two starts, Bayless recorded 39 and 30 minutes, respectively, while posting 35.75 and 25.75 in those games.
Yes, Chicago could stifle him a little bit and his inability to shoot won't help, either, but the Bucks are just too short at PG right now they don't have choice. Not that Tyler Ennis can do better.
(Note: All salaries are from DraftKings and accurate as of February 22.)
1,465 total views, 1 views today