Daily Fantasy Basketball Lineup Advice April 12
The Studs
Reggie Jackson, PG ($8,500)
If there's a sure thing in the point guard position, it's Reggie Jackson. The former Thunder reserve is still somewhat auditioning for everybody, proving he's worth a max contract and not just a backcourt insurance. If owners do look at his fantasy numbers, Jackson might just get what he wants.
Jackson has averaged 44.6 fantasy points in the last four games and practically didn't have one extremely bad statistical night in a month. He has also flashed an outstanding playmaking game of late and dished out at least eight dimes in the last 10 games which makes him a total must-play in a nine-game Sunday.
Anthony Davis, PF ($11,000)
Every DFS player knows Anthony Davis is so good he can top 40 FP in his sleep. And quite frankly, with his team needing a win to solidify their stranglehold in the West's eighth seed, we might just see another monster game from the Unibrow.
The Middle Prices
Greg Monroe, PF ($7,400)
Speaking of auditions, Greg Monroe remains one of the better free agents in the 2015 class. That's why it doesn't matter if they've booted out of playoff contention already, him and teammate Reggie Jackson will continue to play and hog stats.
Monroe has scored 43 and 39.5 FP respectively since his return and opponents, the Hornets, are one of the league's 10 worst teams in stopping power forwards. There's a good chance Monroe will feast on that thin Charlotte frontcourt.
Jordan Clarkson, PG ($7,000)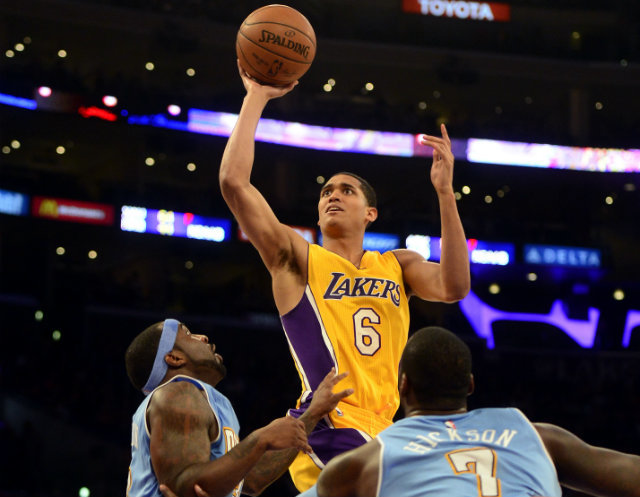 The brightest spot in an otherwise lost season for the Lakers, Jordan Clarkson continues to make a case for at least an All-Rookie first team inclusion. Clarkson, the first-ever Laker to win a Rookie of the Month award, greatly impressed in his past 10 games. He scattered at least 40.25 FP five times during that span that includes a 56-point output (and the game-winner) in Philadelphia.
Monta Ellis, SG ($6,600)
Daily Fantasy Basketball is all about surprise picks and you might have one here in Monta Ellis. True, the dynamic combo guard has not been playing well at all lately, failing to register at least 30 in the past four games. However, if there's an outing you can get going, it's got to be against the Lakers.
Playing in staples turned out well for Ellis the last time, as he went 31 points in La La Land last March 8. Will he be able to do an encore? Well, that's what DFS is all about.
The Bargains
Omri Casspi, SF ($5,200) and Jason Thompson, PF ($4,400)
Pardon the old photo but in every sense of the word, Casspi and Thompson will form a tag-team up front against another smallish frontcourt in Denver with DeMarcus Cousins and Rudy Gay done for the season.
Both forwards played very well recently, with Thompson dropping consecutive 30-point games and Casspi averaging 29.3 FP in the past six games. Truthfully speaking, anyone starting for Sacramento is worth a shot at this point.
Mike Muscala, C ($4,300)
Atlanta is in the business of resting banged-up players on preparation for the playoffs and one of the reserves poised to take on a bigger late-season role is Mike Muscala. It's obviously a roll of the dice when it comes to the Bucknell product, but he could reward you nicely if his playing time goes up and if his shots are fall down.
Basement deals to look at: Marcus Smart, PG ($4,300), Randy Foye, SG ($4,800), Ryan Kelly, PF ($4,800)
Note: All salaries and stats are from DraftKings and is accurate as of April 12, 2015.
1,622 total views, 3 views today