Here comes the Conference Finals people and while I was wrong in ONE of my predictions, that doesn't– in any way, shape, or form– stop me from making more.
Who Wins The West?
I know all the experts like Portland here but truth be told, throw the stats out of the window, the Warriors are a level up as a team than the Blazers. That's how it is.
I know they have split the series and that Dame has had a phenomenal post-season plus he plays great every time he faces Golden State, but it ends right there. The Warriors are even better on the short-term without Kevin Durant and once they get the two-time Finals MVP back, they have another weapon they can unleash, before Portland knows what hit them.
For me, if there's a team that CAN beat Golden State is in the other conference. Actually, either one of the guys in the East has a chance. Portland? Not going to happen.
Prediction: Warriors in 6
Bucks or Raptors?
Like what I said, the Bucks or the Raptors got a chance against Golden State. And this is where I will bother using statistics to reinforce my point.
Milwaukee, for instance, is No. 2 in offensive rating in the playoffs (113.4), No. 1 on defensive rating (98.2) which puts them at No. 1 in net rating (15.2). In other words, they CAN put the ball in the basket and CAN prevent the other team from doing so. They're a juggernaut!
And guess what, in terms of Net Rating, guess who's team Number 2? Yep, our guys up North. The offense has been sputtering and stagnant (9th out of 16 teams in the playoffs in Offensive Rating) but they are No. 2 in defense (100.3). They are neck and neck with the Bucks in opponent 3FG% and No. 1 in opponent's points per game.
That said, the eye test says Milwaukee is both an elite offensive AND defensive team while Toronto's offense took a step down while remaining topflight on defense. The Raptors were No. 5 in offensive rating in the regular season so it's not that they can't score but if Kyle Lowry and Marc Gasol keep deferring to Kawhi Leonard, they won't last long. The key to Toronto winning this series is how much offense they can generate outside of Leonard. They do have the tools and they should probably try and call Gasol's number more often in the post.
All of that makes this one a lot tougher to predict. My heart says Raptors (Kawhi really is my favorite player next to Kobe and Manu) but my brain says Bucks. They say we should use logic over emotion all the time, so I'm going to say Bucks in 7. And did I mention the Bucks are well-rested, too?
Best Value Picks For Game 1
From a fantasy perspective, Warriors-Blazers will be much more fun than Bucks-Raptors but that doesn't mean you shouldn't pick anyone from the latter series.
I think it makes a lot of sense in accommodating a combination of Warriors players centered around Steph Curry and Draymond Green. You could either add Klay Thompson or Andre Iguodala or Kevon Looney. Golden State won't have KD in Game 1 making Steph and Draymond must-plays because of usage and sheer amount of opportunities.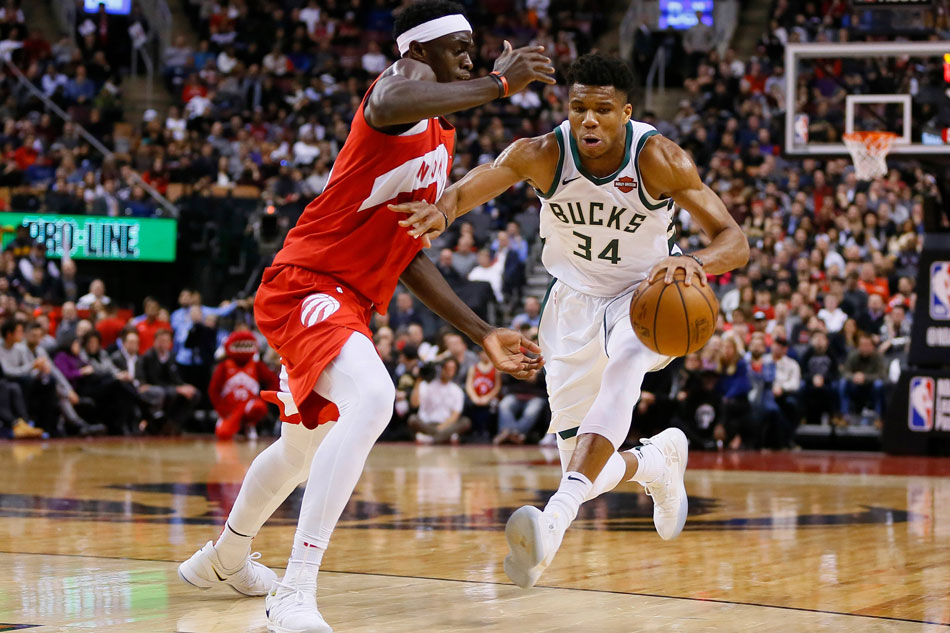 In the East, Giannis Antetokounmpo's salary is a deterrent for me although if I could squeeze in Kawhi Leonard, I will try to do so. For the Bucks, adding Malcolm Brogdon or Nikola Mirotic makes the most sense. For the Raptors, I feel Serge Ibaka's versatility makes him more valuable in this series than the last one. He can guard in space better than Gasol but I say both Raptors centers should be more aggressive looking for their offense to open things up for Leonard.
Featured Image: Kyle Terada, USA Today
2,348 total views, 2 views today