Playing DFS basketball in the playoffs can both be exciting and anxiety-causing, mainly because there are not much options in the board but still you can pretty much predict who will produce and who won't. If the main guys are feeling 60% out of their usual best, chances are, they will play and PLAY a lot of minutes. In a two-game slate, the second round series between the Sixers and the Raptors plus Denver-Portland will be up on the West Coast, so let's see what's up.
The Studs
Nikola Jokic, C, Denver Nuggets
The Joker just dominated in the first round series vs San Antonio to the tune of 23.1 points, 12.1 rebounds, and 9.1 assists. The guy basically averages a triple-double in his first playoffs appearance.
Yeah, he's good, and he should be at the top of everybody's list as a center over Joel Embiid. See, Embiid has his work cut out for him against Big Daddy Marc Gasol. All Jokic has to deal with is Enes Kanter, who has a separated shoulder, and probably Zach Collins and Meyers Leonard, who he can bully down in the low block.
Kawhi Leonard, SF, Toronto Raptors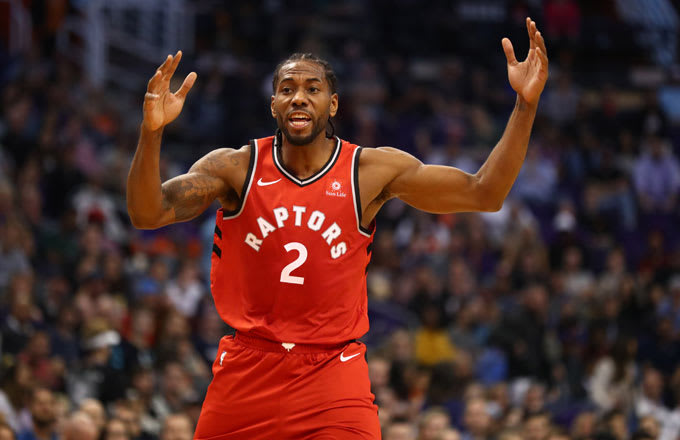 It's either Kawhi or Dame at this stage, but after scoring 45 points with 11 rebounds, two assists, and two steals, I feel you can't go wrong with Kawhi. If you pick Dame, I'd understand, but he could be a worth a few more dollars. Again, there is no right or wrong answer if it boils down to a choice between the two.
The Middle Men
Kyle Lowry, PG, Toronto Raptors
If you're Kyle Lowry, you should be ecstatic about what's going on in your team. I mean, how can you not? You don't have to score double-digits for you to win although you're still one of the best players in this series. That said, if the Sixers defense slows down Kawhi, then look for Lowry to be more aggressive offensively while contributing the usual dose of dimes plus a healthy amount of rebounds.
Al-Farouq Aminu, PF, Portland Trail Blazers
The Blazers need Aminu more than ever and so far, the Chief has delivered. Against the youngest playoff team in the NBA, Aminu's springiness and motor is a key. If he doesn't get into foul trouble, he can easily play 30 minutes a night and has a double-double potential.
The Bargains
Torrey Craig, SF, Denver Nuggets
Craig has been big for the Nuggets in the first round and could be even bigger against a Blazers team with two elite perimeter scorers. Not a scorer but plays a lot of minutes now and is a very good rebounder. At his price, that's enough for me to take a flier on him.
Danny Green, SG, Toronto Raptors
There aren't much options here but at least DG gets consistent minutes although we have not seen a 30-FP game from him since April 7. Fred Van Vleet should also come to mind, as well as, Philly's James Ennis.
Featured Image: Isaiah J. Downing-USA TODAY Sports
2,808 total views, 2 views today