Who has the most rings in the NBA? What do Bill Russell, Michael Jordan, Tom Heinsohn, Robert Horry, and Steve Kerr have in common? Well, those guys have the most rings in NBA history.
Well, if you're a student of the game, you may have known quite a bit of them. If you're new to basketball, you may not have the slightest idea who they were. You probably don't care because, after all, they are all retired. So why don't we get our recent history right and rank the 10 active players who have the most championships rings in the NBA? Let's take a look.
10.) Kevin Durant (2)
We all know the story. KD left a team within a game of the NBA Finals, joining another that won it all two years before. Who cares, right? Durant did what he thought was best for his championship resume, and he did come up with two rings (and two Finals MVPs) for his efforts.
9.) Kawhi Leonard (2)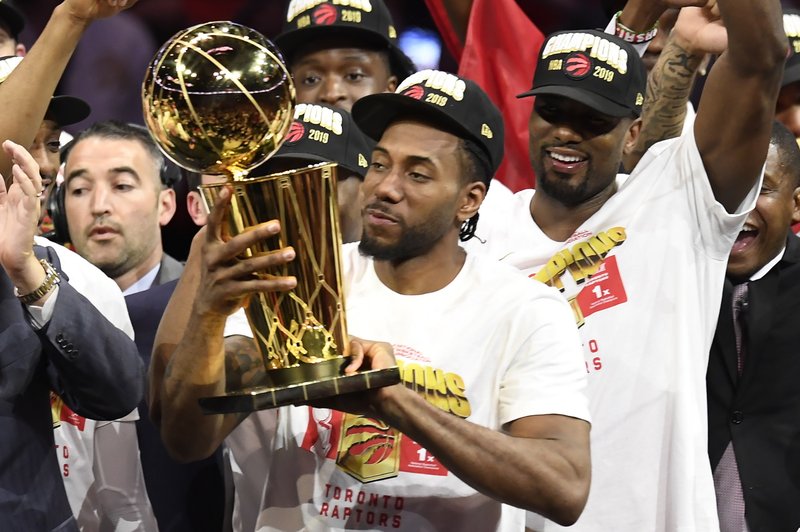 Like Durant, Kawhi Leonard was a two-time champion that earned two Finals MVPs. He was part of the 2014 San Antonio Spurs squad that took down the mighty Miami Heat led by LeBron James, Dwyane Wade, and Chris Bosh. Five years later, Leonard requested a trade out of San Antonio and found himself in Canada wearing a Raptors jersey. He wasted no time in bringing the Larry O'Brien trophy to Toronto, although he obviously felt they didn't have enough to repeat over there and bolted to the Clippers via free agency.
8.) Udonis Haslem (3)
The last time Haslem played was 10 years ago and yet he is taking up a roster spot for Miami in the last decade. OK, alright. UD was actually a very serviceable power forward, helping the Heat to its first-ever championship in 2006 and then two more in the Big 3 era. Fast forward today and Haslem is basically paid for baby-sitting the locker room.
7.) JaVale McGee (3)
Funny thing about McGee's first championship runs was that he was viewed as nothing but damaged goods that a dynasty picked up because they couldn't afford anything else. It turned out to be a successful experiment. McGee took advantage of the gravity of his more-accomplished teammates and a per-minute star on the Warriors. In 2020, he started most of the Lakers' regular-season games, the same year he got ring No. 3.
6.) Danny Green (3)
Green was similar to the great Robert Horry in that he won a championship with three different teams as a defensive stopper and big-shot maker. DG was a key contributor to San Antonio's 2014 title run and helped bring a championship to Canada with Leonard in 2019. In 2020, Green signed with the Los Angeles Lakers and started alongside LeBron James in the backcourt en route to his third ring.
5.) Draymond Green (3)
Draymond Green was the beating heart of the Warriors team that won three championships in four years. His defensive chops allowed Golden State to unleash the "Death Lineup," an ultra small-ball lineup that features Green at center. The result was a championship in 2015, a 73-9 record the year after, and two more rings in 2017 and 2018.
4.) Klay Thompson (3)
Thompson was part of the core of the Warriors dynasty and is considered the best shooter of all-time not named Steph Curry. In fact, Thompson's value is so high many believe Golden State could have won in 2019 if not for his ACL injury. Thompson's outside shooting, as well as his above-average defense, are all keys for the Warriors' two-pronged attack.

3.) Andre Iguodala (3)
If not for Iggy, the Warriors don't have a "Death Lineup." Iguodala allowed the Warriors to go four-small because of his ability to guard four positions. On offense, Iguodala has a good enough three-point shot to keep opposing defenses honest and good enough ballhandling and playmaking to play point guard in spurts. How important was Iguodala really? Well, he has a Finals MVP to show, one more than the person next.
2.) Steph Curry (3)
Nah, that's not a knock on the greatest shooter of all time, but it's true! He may be a two-time MVP (and the only unanimous NBA MVP in history), but what he doesn't have in his resume is an NBA Finals MVP. Nevertheless, that does not diminish Curry's importance in any way. After all, his teammates can do what they want to do because of what Curry does on the offensive end. The guy led the NBA three-point revolution, so what do you expect?
1.) LeBron James (4)
Few athletes, let alone basketball players, are as decorated as LeBron James. He is a four-time MVP, a four-time champion, a four-time Finals MVP, and the first to ever win the Bill Russell trophy for three different franchises. The scary thing is, he ain't even done yet. When all the smoke clears, I won't be surprised if James adds one or two more championships to his trophy case.
Other Active Multiple Champions
Patrick McCaw- Three titles (2 with Warriors, 1 with Raptors)

Damian Jones- Two titles (2 with Warriors)

Rajon Rondo- Two titles (1 with Celtics, 1 with Lakers)

Quinn Cook- Two titles (1 with Warriors, 1 with Lakers)
Random Interesting NBA Championship Stats and Facts
There are 14 multiple NBA champions in active rosters right now and that feat is very rare. According to a Reddit user, over the leagues' 74-year history, only 11.36%, or roughly one in 10, has won an NBA championship.

During the 2016 NBA Finals, LeBron James has done a carry job like no other to give Cleveland its first professional sports championship. He led all players on both the Cavs and Warriors in points, rebounds, assists, steals, and blocks, the first player to do so in an entire playoff series.

In the 2018 NBA Finals, four players averaged at least 25 points. These are Kevin Durant (35.2), LeBron James (33.6), Kyrie Irving (29.4), and Steph Curry (26.8).

Only five teams– Celtics, Lakers, Bulls, Warriors, and Spurs– account for over 69% of the league's championships.

The youngest player to win a championship is Darko Milicic (18 yrs and 361 days old in 2004 with the Pistons) and the oldest is Robert Parish (43 yrs old in 1997 with the Bulls).
Featured Image: Kyle Terada, USA Today Sports
171 total views, 2 views today