We have (mostly) seen everything in this year's edition of free agency, from the emoji wars to the backyard stakeouts and everything in between.
It must have been clear by now that front offices and thereby, teams, aren't created equal and some definitely did fare better than the others.
1. New Favorites Out West
As if its still-solid core isn't enough, the San Antonio Spurs re-tooled and, shall we say, set themselves up for good for another half-decade long of contention by adding LaMarcus Aldridge and David West in the fold. It wasn't the money or Texas' lack of state tax that lured them big fish in. It was San Antonio having a system in place and a crew of selfless stars that would rather complain to themselves about not hitting the open shot or open man rather than their playing time.
Maybe all the other franchises should follow the Spurs' tactics by building a team from the front office out and see how it plays. And oh, with these moves right here, who knows Tim Duncan opts to play another five years.
I mean, with D-West able to start some, TD can choose to rest 40 games and be rose petal fresh come April. That won't sit well with anyone in the fantasy world, but knowing Gregg Popovich, he might pull that attractive trigger.
2. Cleveland goes all in and brings the crew back.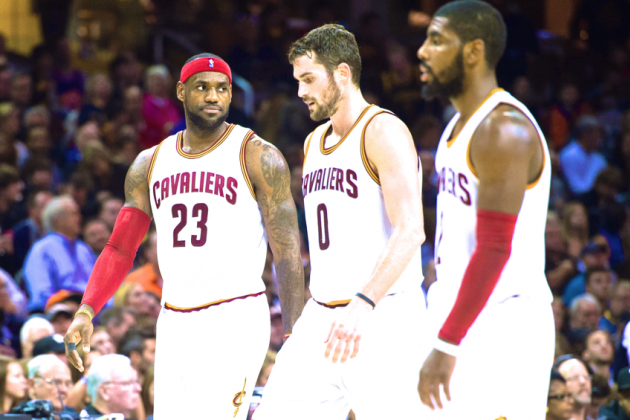 Honestly, with Cleveland in full force in the Finals, I can see them winning it all against the Warriors. Their defense won't be as good but the overall balance of the team and the fact that LeBron James wouldn't have to carry the load for 40 minutes and then falter the rest of the way. Imagine a fresh LeBron in the last 5 minutes of a game? Man, that's scary!
3. Young Bucks Gunning For The Piece Of The Pie Unlike the West where it virtually is a wide open race year in and year out, the East is strictly LeBron James' playground. And beyond LBJ's teams, there were Chicago and pretty much everyone else.
With the Bucks going for the same core of Giannis Antetokounmpo, Khris Middleton, Michael Carter-Williams, and Jabari Parker, however, they could get something going here. Not until when they signed aboard Greg Monroe that it became clear they are no longer darkhorses in the Eastern conference, but a legit upper echelon squad.
That team and a very savvy head coach in Jason Kidd are going to be a big head case for anyone with championship aspirations from either directions.
4. Miami Strikes Gold
Speaking of the East, things didn't stop getting exciting with Wisconsin. Miami did its best to avoid disaster and position themselves for a deep playoff run, too.
The gang is back (that didn't include LeBron, course) with Goran Dragic, Luol Deng, and Hassan Whiteside forming a pretty ridiculous starting five. The Heat also caught a break when Justise Winslow of the national champions Duke Blue Devils fell right into their laps at number 10.
Good times again in South Beach eh?
5. And what about the Lakers?
Whoever expected a championship anytime soon should check himself into a rehab facility.
They will still be near bottom-feeders but looking at their offseason moves, they weren't bad at all, considering how much they gave up: NOTHING.
They drafted D'Angelo Russell, who could be the best passer anyone has seen in years, plus they got Lou Williams, the reigning Sixth Man of the Year who had no problems heating up fast. Brandon Bass, while undersized, is a physical defender and a knockdown mid-range game; and Roy Hibbert was an All-Star twice in the past four seasons and is still 28!
Considering the fact that Dallas and Portland took three steps back with Monta Ellis going to Indiana, Tyson Chandler cashing in with Phoenix, LMA bolting to San Antonio, and the infamous DeAndre Jordan drama, the Lakers could create some interest in La La Land and make Kobe Bryant's would-be final season much more watchable.
Now that's not really a typical Hollywood ending but it could be worse, like last season worse.
1,540 total views, 2 views today