1.) Play With Fire And Desperation
The NBA Finals is more than just X's and O's. After all, Cleveland and Golden State have faced each other for the fourth consecutive time in the Finals already.
What was lacking in the Cavs so far this series is the aggressive play that almost had them steal Game 1. Tristan Thompson making his presence felt, Larry Nance, Jr. having a hand on passing lanes, etc. (Nance had three deflections, four loose balls recovered, four contested shots and seven box outs in his 19 minutes off the bench in Game 1.)
They almost won that game– ALMOST– and they need to revert to their Game 1 ways to give themselves a chance at home Tuesday. Minus the J.R., of course.
2. Play Kyle Korver more.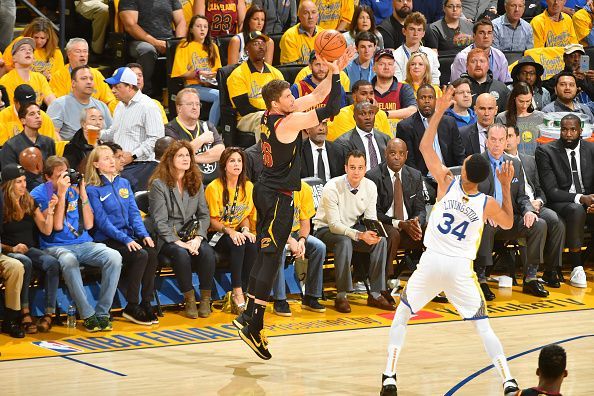 Fun fact: Cleveland is 11-2 this postseason when Korver plays more than 20 minutes.
So, that should tell Tyronn Lue to play his sharpshooter more this series, right? Not only does Korver address their 3-PT shooting needs (Cavs shot under 30% so far this series at 19-for-64), he is also one of their best team defenders. According to NBA Stats, Korver is best on the team in defensive rating with 104.9 this playoffs (at least 15 minutes per game).
3. Knock down open shots.
No rocket science here. Cleveland has been awful in this series, missing open shots left and right. Jeff Green and J.R. Smith were 3-for-17 combined on shots where defenders were not within four feet.
As a whole, Cleveland only made 30% of their open shots in the first two games on 71 opportunities. In catch-and-shoot situations, the Cavs have shot only 28%, so go figure.
Featured Image: (AP Photo/Marcio Jose Sanchez)
4,529 total views, 2 views today