The OKC Thunder won't be as good as they were in previous seasons. You may already know why but that only makes things more interesting for the Thunder fantasy-wise. Some guys will and should be ready to step up without Kevin Durant and it would be fun watching Russell Westbrook go and try to replicate Oscar Robertson's triple-double season just too keep them in hunt for a playoff berth.
As much as we talk about Durant leaving, the Thunder also made noticeable changes to their core. They shipped rim protector extraordinaire Serge Ibaka to Orlando and in return, got three rotation-caliber players. One of those is Victor Oladipo, who on some nights, look like a legit All-Star player. Oladipo may have a chance to be in his first February showcase if he learns how to play off Westbrook.
All the moving parts and some level of uncertainty makes this OKC Thunder a team intriguing to watch– both in reality and fantasy.
The MVP?
Russell Westbrook is AT LEAST a top two pick in NBA fantasy basketball drafts. He had lots of run time without Durant last season averaging 31.5 points, 8.3 rebounds, 9.5 assists and 2.2 steals in 48 contests Durant missed. I don't think he can maintain those kind of numbers in 82 games but it gives us an idea how good he could be without someone to equally share the basketball with. Westbrook is a good bet to lead the league in both scoring and assists and those are pretty good stats to start with.
Breakout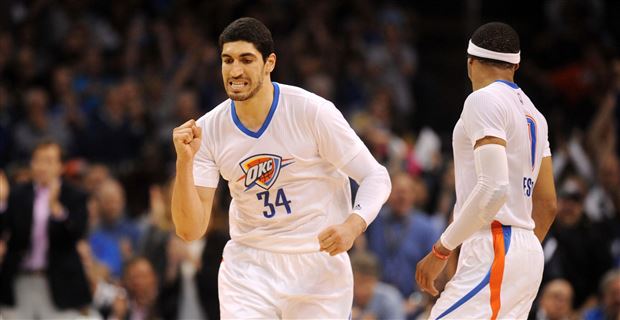 Oladipo is athletic and may greatly benefit levitra dosage from playing off a superstar who generates so much attention like Westbrook. However, as his history and pre-season numbers indicate, he is neither a good shooter nor a foul magnet. He can contribute a lot on defensive numbers but I'm thinking of another one who may make a considerable leap next season: Enes Kanter.
The Turkish big man will probably be overvalued because of his scoring and rebounding (18.5 points and 9.8 rebounds in under 26 minutes in 5 preseason games) but he's going to be a surprisingly good addition to Daily Fantasy rosters and points leagues. Westbrook's passes need to find a target and Kanter is one pretty big target inside.
Sleeper
Ersan Ilyasova is criminally underrated as a scorer, rebounder, and shooter but those skills will likely earn him a spot in Billy Donovan's rotation. Another Turkish in the roster, Ilyasova will fit right in with Kanter and be another veteran who knows what to do with the rock. Ilyasova has been a double-digit scorer in 7 of his 9 NBA seasons and his 1.5 threes per 36 minutes makes it a little easier to take in the loss of Ibaka's occasional sniping. Nothing flashy but definitely solid, maybe good enough to fill the last spots on your roster especially in mid-sized to deep leagues.
Featured Image Credit: Mark D. Smith-USA TODAY Sports
1,578 total views, 1 views today