The Houston Rockets roster may not be that much better without Dwight Howard but with the hiring of Mike D'Antoni, they are going to have a lot of fantasy appeal. That as much is true.
MDA's system has brought so much fantasy value to teams like the Phoenix Suns, New York Knicks, and the Los Angeles Lakers. Good players like Shawn Marion and Boris Diaw were made fantasy superstars and mediocre ones like Earl Clark and Jeremy Lin were made relevant.
Again, they may not be better than they were last season but at least we, as fantasy owners, will have much fun finding gems amongst the 12 men in Rockets uniform.
Harden No. 1? While looking for hidden gems may sound appealing, there's no question who the number one guy is. Not only does James Harden is the best player on this team but also has a case to be the best OVERALL in fantasy.
The Beard compiled his best statistical season yet last year (29.0 points, 6.1 rebounds, 7.5 assists, 1.7 steals per game) but with D'Antoni preaching fast-paced offense all year long, Harden may top over 30 points for the first time in his career. The Arizona State product has always been able to get to the foul line (10.2 times per game over last two seasons) and despite his reputation on the defensive end, never averaged below 2.0 combined steals+block over the past four seasons.
I am still picking Harden's former teammate Russell Westbrook as No. 1 overall, but the Harden is in no way a consolation prize.
Breakout Candidate
Clint Capela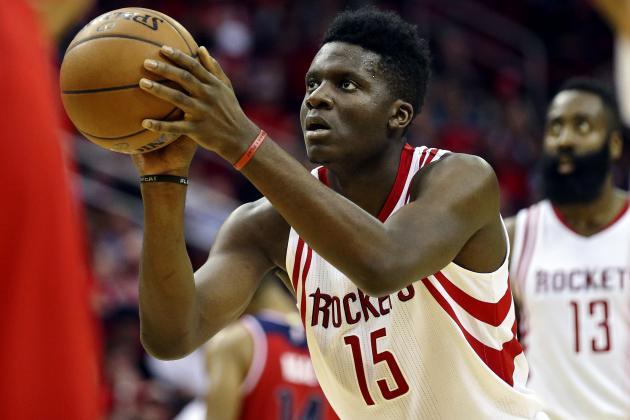 You can make a case for Capela as the best Rockets big man last season and that's not an exaggeration. Howard was a +7 in net rating last season but Capela is a +10 in that similar category according to Basketball Reference. He might also be a better rebounder and shotblocker than Howard is at this point of their careers and unlike D12, wouldn't really mind not getting the ball on O.
The knock on Capela is his free throw shooting but as long as his attempts remain low (2.7 attempts per game last year), that wouldn't reflect so much on your team's overall percentage. Bottom line is, with Capela's athleticism, willingness to dive in the PNR and do the dirty work, he has a chance to be a very valuable commodity playing under MDA.
Sleeper
Sam Dekker
Trevor Ariza has been the full-time starter for the Rockets the past three seasons and I expect it to be that way this season. However, with D'Antoni's penchant for playing small ball, Dekker could find himself in the mix as a stretch-4 behind Ryan Anderson if he recovers his outside shot. Michael Beasley is another guy but given the former No. 2 overall pick's history and lack of defensive acumen, MDA might roll the dice on the younger and more fundamentally sound Dekker.
Featured Photo Mandatory Credit: Bill Streicher-USA TODAY Sports
3,693 total views, 2 views today