We know who the big guns are. Karl-Anthony Towns, DeMarcus Cousins, Marc Gasol, they'll all be gone by the third round. If you're lucky, Al Horford, Nikola Vucevic, or Brook Lopez may be available into the fourth and fifth rounds.
But after the big names, who can we target at the most critical position in fantasy sports? Let's take a look at some of the underrated fantasy options to target at Center:
Still Big?
1. Dwight Howard, Atlanta Hawks
Howard's regression the past two seasons in Houston is well-documented but it could be a product of the system than D12 himself. With a new environment, new coach and a team-first culture in Atlanta, Howard is a prime candidate to regain his status as one of fantasy basketball's best big men.
The knock, of course, is free throw shooting but if Howard drops all the way into the sixth and seventh rounds (and if you got two guards who can offset FT%), that is great bang for the buck value for someone who could be a top-5 center at season's end.
2. Nerlens Noel, Philadelphia 76ers
Noel is ranked the No. 8 fantasy center on ESPN but if you strictly look at defensive stats, he is right there at the top with a 4.1 combined steals and blocks. If you solely dig for those numbers, you can make a case for the lanky Kentucky product to be gone at the end of the fifth round. However, there are sexier (offensive) options out there, so some people might complete forget how dominant his defensive stats are. That is where you can come in and snag Noel.
Be advised, though, that the Sixers got three new players coming in for Noel's position (not to mention Jahlil Okafor) which means if neither of them are traded by October, a logjam at the 4 and 5 positions could not mean well for Nerlens Noel's fantasy value. Again, that may lead people from avoiding Noel altogether, so be quick to capitalize on their mistakes.
3. Chris Bosh, Miami Heat
Blood clots cut short Bosh's 2015-16 season but there has been growing optimism around the Heat organization that the perennial All-Star could make a successful return next season. Along with that, there should also be growing pessimism around fantasy circles if Bosh could indeed regain his footing on fantasy superstardom. If you're feeling lucky, like ESPN's 22-point, 7-rebound projection on Bosh (honestly, he can do so much more being the Heat's main guy), you can start looking his way starting at round 5.
Still Solid?
1. Joakim Noah, New York Knicks
Noah played only 29 games last season, the lowest of his career that spans nine seasons. However, if healthy the shaggy-haired Frenchman will surely help any fantasy team with healthy percentages, underrated scoring, elite rebounding and a robust dose of assists. Even with all those injuries last season, Noah has turned out his highest assist per-36 minutes rate at 6.2! If Noah, shows up for at least 72 games, he is a top-10 center in my list.
2. Marcin Gortat, Washington Wizards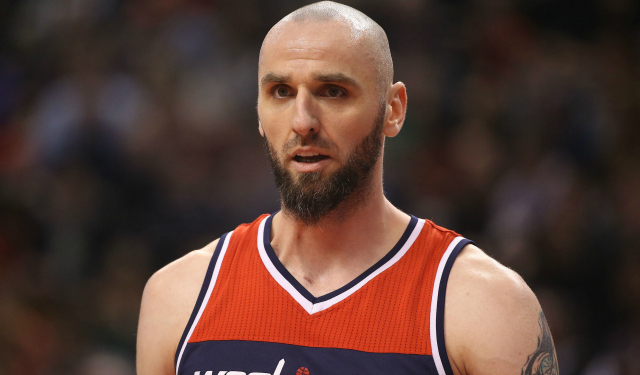 Gortat is solid but at 32, he has no way of reaching the upper tier of fantasy centers. He is a pretty good example of a player who won't hurt you anywhere but won't carry your team either.
3. Jonas Valanciunas, Toronto Raptors
See Gortat, Marcin but with much more room to improve at only 24 years of age.
Sleepers
1. Jusuf Nurkic, Denver Nuggets
Nurkic is highly skilled and has the potential to be really good in time. If he can tone down the shot selection, that is. The Bosnian Beast averaged 17.3 points 11.5 rebounds, and 3 blocks per-36 minutes, a good indication of production if coach Mike Malone decides if he is worth that many minutes. Even if his playing time dabble in the low-to-mid 20's, he is still worth monitoring.
2. Steven Adams, OKC Thunder
It's a toss-up between Adams and fellow Stache brother Enes Kanter but Adams gets the nod for more defensive contributions. He will never be the scorer Kanter is (at least, not next year) but a 1.6 combined steals + blocks and the possibility for more playing time should bode well for Adams' fantasy value. If he gets anywhere his 2015-16 playoff averages (10.1 points, 9.5 rebounds, 1.3 combined blocks and steals), I am a happy owner.
3. Cristiano Felicio, Chicago Bulls
I don't expect Felicio to be drafted at all but he has a chance to be the Bulls starting center with only Robin Lopez in front of him at the depth chart. While the Brazilian is no ordinary sophomore at 24 years old, Chicago is noticeably better on both ends of the floor with Felicio. In the last 10 games the Bulls played last season, Felicio has a +13 Net Rating (112.1 Off. Rating, 99.1 Def. Rating) with an 8-point, 6-rebound, 1-block average on the month of April at under 20 minutes a night. Playing time is all the youngster needs and he is in a perfect position to get as many as he could handle.
Featured Image: (Antonio Perez / Chicago Tribune)
2,950 total views, 2 views today