Michael Jordan. Magic Johnson. Kobe Bryant. Tim Duncan. Larry Bird. LeBron James. Hakeem Olajuwon. Superstars like them are the kind that you can put in any era and will just plain dominate.
Lumbering bigs such as Mark Eaton and Moses Malone non-shooting point guards like Rod Strickland and Mark Jackson may have trouble cracking the line-up in today's game but flipping the script a little bit, there are a lot of players that may probably have been better if they played in this era.
Take a look at 10 of them:
1.) Toni Kukoc
Kukoc played primarily under Mike and Scottie's shadow but he is such an integral part of what the Bulls were doing that the team can afford to play without a low-post scoring center. The guy can literally do it all at 6-foot-11– handle the ball, post up smaller guards, face up big men, shoot, pass, name it.
He may not be the rebounder that you'd like for a guy barely seven feet but he averaged 23.4 points, 8.5 rebounds, and 7.4 assists per 100 possessions throughout his career. He is extremely versatile and extremely skilled that's why I think he'll probably be a perennial All-Star if he played in this era that values that skill set as never been before.
2.) Lamar Odom
Another lefty like Kukoc, Odom will probably be playing the role of a point forward full time in today's NBA like Ben Simmons. For the sake of comparison, Odom is a better rebounder, low post scorer (if he is into it), and shooter while Simmons is the better passer.
In today's game, Odom can be the ultimate small-ball center and has played that role for the gold medal-winning USA team at the 2010 FIBA World Cup. Odom averaged 20.8 points, 13.1 rebounds, 5.8 assists, 1.4 steals, and 1.5 blocks per 100 possessions throughout his career, a testament to that Swiss Army knife skill set that teams covet nowadays.
3.) John Stockton
I know. Stockton could easily make the list of stars who transcends any era but I can't hep but play the "What If" game with the NBA's all-time steals and assists leader.
What if he was surrounded by many shooters other than the Mail Man? And what if he was encouraged to look for his offense more with the driving lanes so wide open? What if Jerry Sloan didn't hate threes? Will he be a better version of himself?
I mean, he certainly can do it, judging from the fact that he averaged 21 points, 16.8 assists, and 3.5 steals per 100 possessions during the 19 NBA seasons he has played.
4.) Mark Price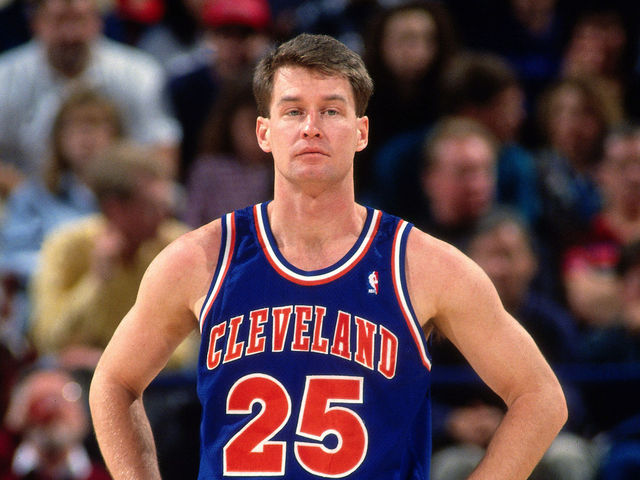 Price reminds you of a Steph Curry before the actual Steph Curry with insane handles and silky smooth stroke. Price, according to two-time NBA champion Kenny Smith, invented the double-team "split", a testament of how good his handles were relative to his time that he actually pioneered a move.
Additionally, many don't know but Price had one 50-40-90 season and came close in several others. (Hell, his career averages are 45-40-90, so..) He knocked down over two treys a game in 89-90 where deep shooting is not that fashionable yet. At the very least, Price is a very good starter in today's game and will give the Splash Brothers a run for their money when it all boils down to shooting.
5.) Peja Stojakovic
Stojakovic is the very first shooter I can remember that has a license to shoot over six three-pointers a game in an era of slow paces and post offense. He is essentially a 45-40-90 guy all his career but in his prime, he is an MVP candidate with underrated passing and defense.
According to NBA.com, Stojakovic only had two seasons where he was a net negative. His career-high in Net rating is +13.5 while in comparison, Kobe Bryant only had a career-high +10.7 net rating in 08-09.
So, what if Peja played in today's NBA, say, alongside James Harden or LeBron James? Or in a system like Golden State or Milwaukee? If Kyle Korver had relative success in Atlanta as one of the offensive hubs, I mean, Peja would have destroyed the league, EASILY.
6.) Shawn Marion
Marion is an anomaly and one of the players that bridged the slow-paced era to what it was today. Guy can do it all when it comes to counting stats and if you're a superstar, he's the ultimate teammate because he plays his heart out while never needing the ball everytime on offense.
In his best NBA season in 05-06, Marion is averaging 27 points, 14.7 rebounds, 2.2 assists, 2.5 steals, and 2.1 blocks per 100 possessions. If placed in a fast-paced system while playing with an unselfish creator in this modern era, Marion could probably average these numbers season in and season out.
7.) Drazen Petrovic
With the importance of shooting emphasized in today's NBA, Petrovic could have had a field day if he was playing in this era.
The Yugoslavian is a career 43.7% shooter from deep (Steph Curry is a tad lower, 43.6% from deep) and was good for 28.5 points, 4.3 rebounds, and 4.5 assists per 100 possessions in his career. There were only seven players last season who shot at least 43% on at least 100 attempts and I'm pretty sure Petrovic would be among the cream of the crop if he was still playing today.
RIP.
8.) Andrei Kirilenko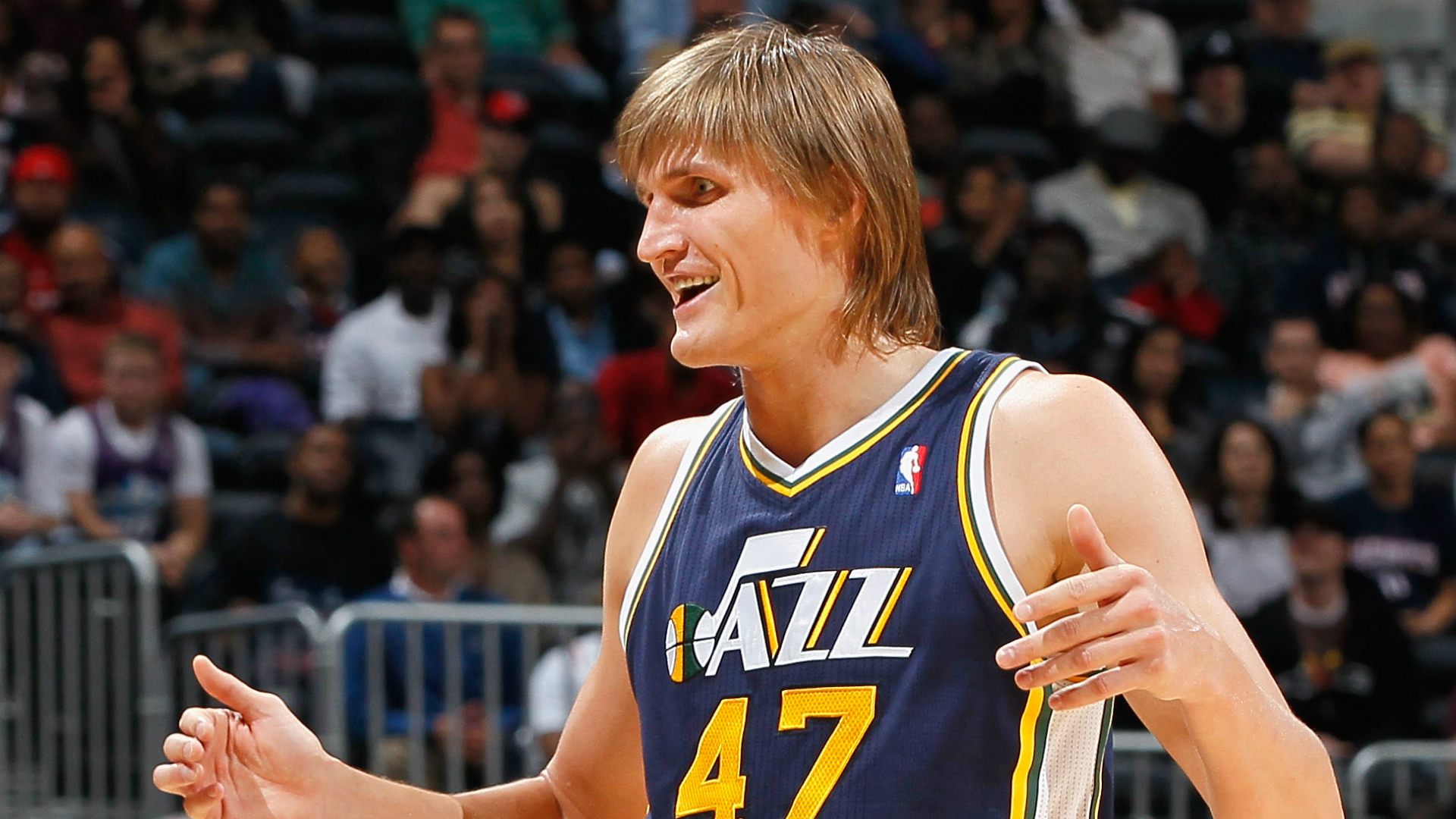 Kirilenko averaged an amazing three steals and three blocks a game for one season at the small forward spot, so what does that tell us? Well, at 6-foot-9 and 235 lbs, Kirilenko is the perfect small-ball four or five in today's game, basically what Draymond Green is like to the warriors.
Like Green, Kirilenko's shot is shaky to say the least but he is a committed rebounder and defender with highly underrated passing skills. In his career, AK47 is good for 20.9 points, 9.6 rebounds, 4.8 assists, 2.4 steals, and 3.2 blocks per 100 possessions.
9.) Larry Johnson
With his size, athleticism, very good mid-range game, and underrated defense, LJ could be a much stronger force in today's NBA game than in the early 90's. Because he had to bang with the behemoths in that era, Johnson's career was shortened because of back injuries and was never the same after his fifth season.
What if he happened to play in this era? Well, he might have to do a lot better with his conditioning but there's a possibility that he may have a longer and better career a la David West (although LJ obviously is more athletic). Per 100 possessions, Johnson averaged 23 points, 10.7 rebounds, and 4.6 assists, mirroring his All-NBA season with Charlotte in 92-93.
10.) Rasheed Wallace
Sheed retired in 2013 but if I can re-write history, I'd zap him as a 19-year-old rookie in 2019. His game was so way ahead of this time that the perfect era for him is THIS era.
Wallace is one of the first big guys that can consistently pop out and shoot, he is a solid position defender and shot blocker, and very mobile for his 6-11 frame. Sheed averaged 24 points, 11 rebounds, three assists, 1.6 steals, and 2.2 blocks per 100 possessions (while shooting 34% from deep) but he played one era too late in my opinion.
4,148 total views, 2 views today