Careers of our favorite NBA stars were never defined by the sneakers they wore, but it can't be denied that only the select best get to wear shoes that go by their own names.
We all know how His Airness himself Michael Jordan re-defined the basketball shoe industry with his very own brand (under Nike), so expect a few of his signatures here in this list. And of course, the usual and the not-so-usual suspects.
Here are the 10 most iconic basketball shoes of all time:
10. FILA Grant Hill 1
FILA shoes were never aesthetically raved but when Grant Hill wore this one in 1994-95, it became one of the most recognizable sneaker at the time. The company has retroed the shoe in 2013 and it's quite amazing to see how a not-so-active brand (for now at least) has been embraced 20 years after it gained much of its notoriety.
9. T-Mac 3
I'll never forget the day I got a pair T-Mac 1's and regretted how tunnel-visioned I was by going after the name alone. It was ugly (to my standards), did not have much traction and the materials used were kinda hard, which made moving around difficult.
With the T-Mac 2's, Adidas got it right, but the third installation, boy were those perfect! It had a flashy, midcut design worn by one of the most flamboyant scorers of all time.
Such a fitting marriage!
8. Reebok Questions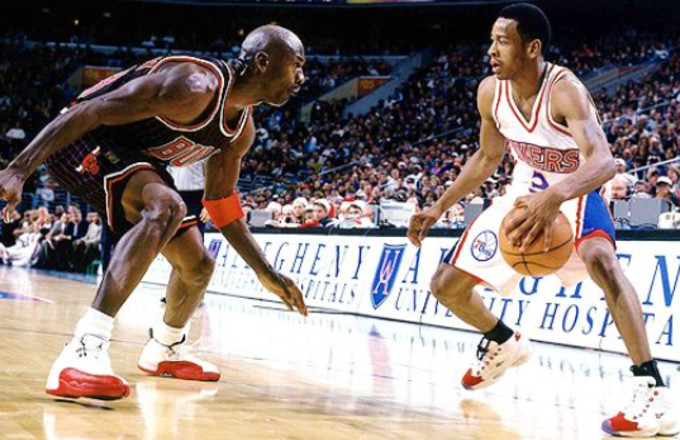 Allen Iverson took the NBA by storm with his snazzy, devil-may-care approach to basketball. And when "The Answer" crossed up Michael Jordan with these shoes on, it seems them sneakers took a life of its own.
7. Kamikaze 2
Definitely a 90's classic, "The Reign Man" Shawn Kemp brought the Kamikazes to life by averaging 18.7 points and 10 rebounds en route to a fifth All-Star appearance. The splashy design of the shoes fit admirably with Kemp's effective yet thrill-seeking style of play.
6. Foamposite One
One of the most expensive shoes of the 90's, the Foamposite One were retailed for $200 when it first came out! It had an innovative, space-age look and was worn in the NBA by Penny Hardaway but popularized by Mike Bibby in his 1997 NCAA title run with the Arizona Wildcats.
But still, man, 200 dollars are a bit too steep back in the day.
5. Reebok Shaqnosis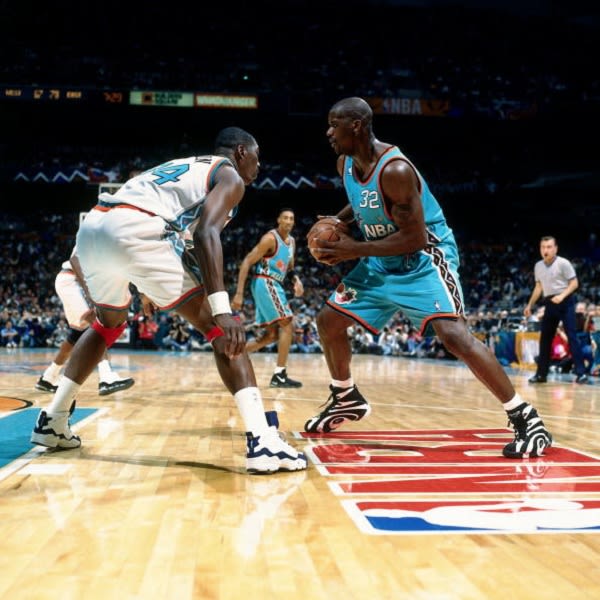 Shaquille O'Neal was a one-of-a-kind player and so it follows that he needed one-of-a-kind sneakers to go along with his play. Shaq debuted the Shaqnosis in the 94-95 season, the year where he led the Orlando Magic to it's first finals appearance in just his third season.
4. Air Zoom Huarache 2k4
The Air Zoom Huarache were essentially Kobe's first with Nike but the shoe itself didn't need none of Mamba's help when it comes to popularity. It was one of Nike's top models for years but Bryant made it a point to wear one with his team colors in 2004. That's not a mere marketing ploy , however, because in reality, the Huarache is probably the best Nike basketball shoe ever made.
3. Air Jordan 1
Possibly the most controversial shoes of all time, MJ wore this in his rookie season despite them being banned by the NBA! Needless to say, it just added to the shoes' notoriety and Jordan never looked back ever since.
2. Converse Chuck Taylor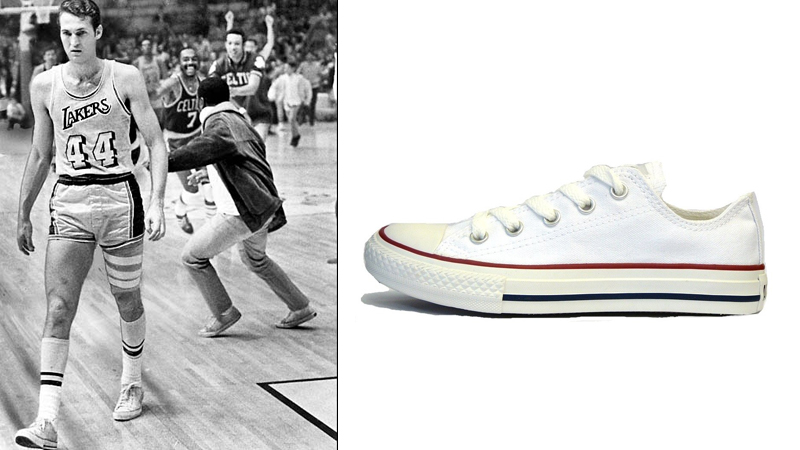 It's ridiculous to have a list of iconic shoes and leave out the originals right?
1. Air Jordan XI
Are you somewhat surprised? Let me convince you: MJ rocked the shoes at "Space Jam", donned it in his return in the middle of the 94-95 season and won championship No.4 the next year with these same sneakers.
Enough said.
Bonus: Nike Air 2008 Olympic Edition Hyperdunks
If it's worn by some of the best players all at the same time for just a single event, it deserves some merit. Though obviously, D-Wade, 'Melo, LeBron, CP3 and D12 didn't get the memo.
3,665 total views, 1 views today