1.) D'Angelo Russell
Russell just became the first option of a young Nets team to probably an off-the-ball scorer in Golden State with Steph Curry the focal point of the offense. The first-time All-Star excels when he has the ball making decisions on pick-and-rolls, something he may not be able to do with Curry around. (According to NBA.com/stats, the percentage of unassisted field goals by Russell last season is at 71.2%, which means he is more of a shot-creator than an off-the-ball guy.)
Of course, that doesn't mean he can't do what he does best AND improve on being an off-the-ball scorer but he will have a shorter leash in the Bay Area than in Brooklyn. Moreover, the Warriors may even trade him when Klay Thompson returns and as a fantasy owner, you don't want to deal with that level of uncertainty.
2.) Justise Winslow
Goran Dragic is healthy and Jimmy Butler is now in South Beach so there really is no need for Point Justise now, is there? I really like the improvement he has made in 2018-19, but the upcoming season will be very, very different for Winslow in a not-very-good kind of way.
Winslow is one of 18 players last year who averaged at least 12 points, five rebounds, four assists, and a steal per game and is the only one playing under 30 minutes (29.7). I'm afraid he will be a lot less of a player statistically in the 2019-20 season.
3.) Jarrett Allen
DeAndre Jordan is the third domino to fall for Brooklyn after Kyrie Irving and Kevin Durant committed to the Nets. Now there goes the fantasy value of Jarrett Allen almost out the window.
Jordan almost does not miss games and is a consistent double-double and lob threat. He has been a net negative the past two seasons (Allen isn't any better, though) but overall DJ is still a better player compared to Allen. We don't exactly know where this would take Allen but as soon as the fantasy drafts come around, I don't think he will be on my radar.
Kenny Atkinson rightfully didn't commit to a starter for his team this early but if this position battle ends up in a timeshare, I won't invest in either of them for my fantasy team, too.
4.) Lou Williams
I am betting against a consistent force here but the addition of Paul George and Kawhi Leonard should, at least on paper, negatively affect Lou Will's usage rate and shot attempts. But the guy averaged 19 points in 24 minutes per game before so I could be wrong here. He still can be very serviceable especially in points, 3PM, free throw attempts, and free throw percentage.
5.) Chris Paul
Houston has given up on Chris Paul as a legit top-2 option and I think it's time for fantasy owners to do the same. However, like a coin, there are always two sides to the story.
While CP3 may not be a Round 1 or 2 guy anymore, seeing him in late round 3 or early round 4 is blasphemy. He may not be top 5-15 right now, but there's no way there are 25 players that are better than him in fantasy. The biggest red flag on Paul is the number of games played (58 in each of the past two seasons, missing 48 games overall) and the dropoff in FG% (career 47% to 42% last year) but he is still an elite playmaker with a high steal rate.
I can't see why Joe Kaiser of ESPN listed Paul at No. 45 but you can turn somebody else's garbage into your own gold. Again, Paul may not be what he once was but he is still really, really good especially in the right situation.
6.) Josh Richardson
Only 22 players averaged at least 16.5 points, 3.5 rebounds, four assists, and a steal in at least 50 games played and Josh Richardson was one of them. Just don't expect a repeat next season.
Richardson will be teammates with three All-Stars and one really good player (Joel Embiid, Ben Simmons, Al Horford, and Tobias Harris) so where does that leave him? I don't think he will be the same scorer and ballhandler that he was in Miami but we sure hope he gets his production up in other areas. Hell, even Jimmy Butler averaged only 18 in Philly with a stacked lineup after going for at least 20 each game in the previous four seasons.
7.) J.J. Redick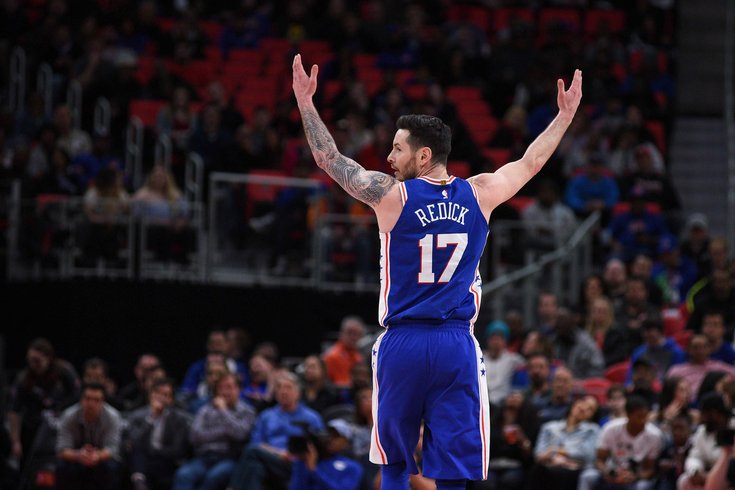 Redick went from one of the NBA's best starting lineups to one that will have its aches and pains. How should that play out for the former Duke star? I say not good.
Defenses will pay more attention to Redick in New Orleans compared to when he had Embiid, Simmons, and Harris, who were superb scorers in their own rights. It's also worth mentioning that Redick last year was his first sub-40% shooting year from deep after shooting at least 40% in four straight campaigns. I think that kind of shooting continues for the now 35-year-old sharpshooter.
8.) Derrick White
White was a surprise last season averaging a well-rounded line: 9.9 points, 3.7 rebounds, 3.9 assists, 1.0 steal, 0.7 blocks on a 48% clip from the field. Not spectacular, but solid, and he has a chance to build on it IF the Spurs don't have Lonnie Walker and Dejounte Murray back.
Besides the ultra-athletic Murray and Walker, they will also have Marco Belinelli, DeMar DeRozan, Bryn Forbes, and Patty Mills all in the rotation so the fantasy future is looking bleak for the Colorado native.
9.) Dennis Smith, Jr.
DSJ showed flashes of brilliance in his two seasons but he still has a lot of glaring issues namely playmaking and poor shot selection. Now that the Knicks signed a better playmaker in Elfrid Payton (36.5% assist ratio to DSJ's 22.4), we may see less of Smith at the PG position. Still, DSJ is too talented of a player to be put in the doghouse but the addition of Payton will definitely put a cap to his ceiling.
10.) Tomas Satoransky
Satoransky may be better off with the Wizards as the starter without John Wall for the whole upcoming season but for the Bulls? I don't know where he'd find time in a backcourt with Kris Dunn, Coby White, and Zach Lavine. Even if Dunn gets dealt at some point, it's way different than the sure-fire fantasy situation he's going to have in DC. Well, at least he got paid.
3,868 total views, 4 views today