Daily Fantasy Basketball Lineup Advice (March 12), Thursday, 5 games:
The Studs
James Harden, SG ($10,800) There isn't really much to explain here but the real question is, would you roster James Harden on a second night of back-to-back following a relatively "poor" 33.5-fantasy point performance? Absolutely.
The Rockets may be travelling from Portland to Salt Lake but I honestly couldn't remember back-to-back nights where Harden had mediocre games (to his standards at least). The last time he posted FP in the 30's, he dropped 79 on the next opponent.
Kawhi Leonard, SF ($8,100)
In a meeting between stat-stuffing small forwards, it's difficult to choose between LeBron James and Leonard because their performances in the past 10 days were comparable (with the slight edge to James, 46.9 to 43.5). However, the 2014 Finals MVP is over 2,000 dollars cheaper which means, you can spend the dough on other rotation players as well while retaining, more or less, the same kind of production.
We all remember how Kawhi owned LeBron many times in Texas so roll the dice with Leonard and no one's losing any sleep over that choice.
Derrick Favors, PF ($7,800)
Favors has been an absolute monster lately with four 40-FP games in the last seven. Gordon Hayward's absence (back) increases his overall value or it's just that Favors is simply peaking at the right time. Having a defensive-minded (sometimes to a fault) center beside him doesn't hurt either, making him the Jazz's lone interior low-post scoring option since Enes Kanter left.
 The Middle Prices
Tony Parker, PG ($5,900)
We've seen this thing play out so many times and each time we all fall for it.
TONY PARKER AIN'T DONE!
The Frenchman posted three straight 40-point FG just in time for the Spurs to hold on to a playoff seed. It was just a matter of getting healthy and right now, there's no doubt Parker is. At his price, that's an absolute steal.
Khris Middleton, SG ($6,300) Middleton is one of the unsung heroes in a Bucks squad full of them. What made the lanky guard effective is that the shooting guard spot is his to lose, playing 40, 37, and 42 minutes, respectively in the last three outings. Not surprisingly, he totaled into the high 40 FP in the two games he topped 40 minutes.
Andrea Bargnani, PF ($5,800)
Sometimes, a player needs only two things: shots and minutes. Playing against a team that is sixth-worst in stopping power forwards, Andre Bargnani might just get both.
The Bargains
Alexey Shved, PG ($5,000)
The Russian's salary went from 3,400 to 5,000 in one night thanks to that 52.5-FP eruption against Utah. Nobody else has the starting PG position locked in an atrocious Knicks team so expect Derek Fisher to give Shved another go-around at the helm.
Zaza Pachulia, C ($3,500) For the Georgian big man, it's all about match-ups. Matched up against true centers like Orlando's Dewayne Dedmon and Golden State's Andrew Bogut, Pachulia can get 25 minutes from coach Jason Kidd and make you happy. Otherwise, as in the case against the Pelican's athletic frontline, Pachulia could see the bench more often than not.
The Bucks are traveling to Indiana and whether he's up against David West, Ian Mahinmi, or Roy Hibbert, this looks like a match-up Pachulia can flourish in.
Tarik Black, PF ($3,300)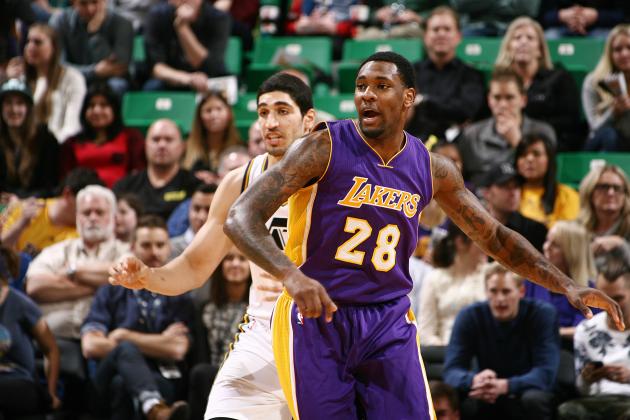 The midseason pick-up for the Lakers has been inserted into the starting line-up and has played at 22 and 26 minutes in the last two. The numbers during those outings isn't eye-popping by any means but if Black can get extra minutes against a relatively weak Knicks frontcourt, the former Kansas Jayhawk could do better than the two 20-FP games he showed.
(All stats and salaries are from DraftKings and is accurate as of March 12.)
1,896 total views, 1 views today